Double glass reactor double glass design, inner into reaction menstruum do stirring reaction, interlayer can pass different
cold sources (cryoprotectants, hot water or hot oil) do cycle heating or cooling reaction. Setting thermostat conditions, in
confined glass reactor, can use require atmospheric or negative pressure conditions conducted stirring response and do
reaction solution reflux and distillation is modern Fine Chemical Factory, biopharmaceuticals and new materials synthesized
ideal test production equipment.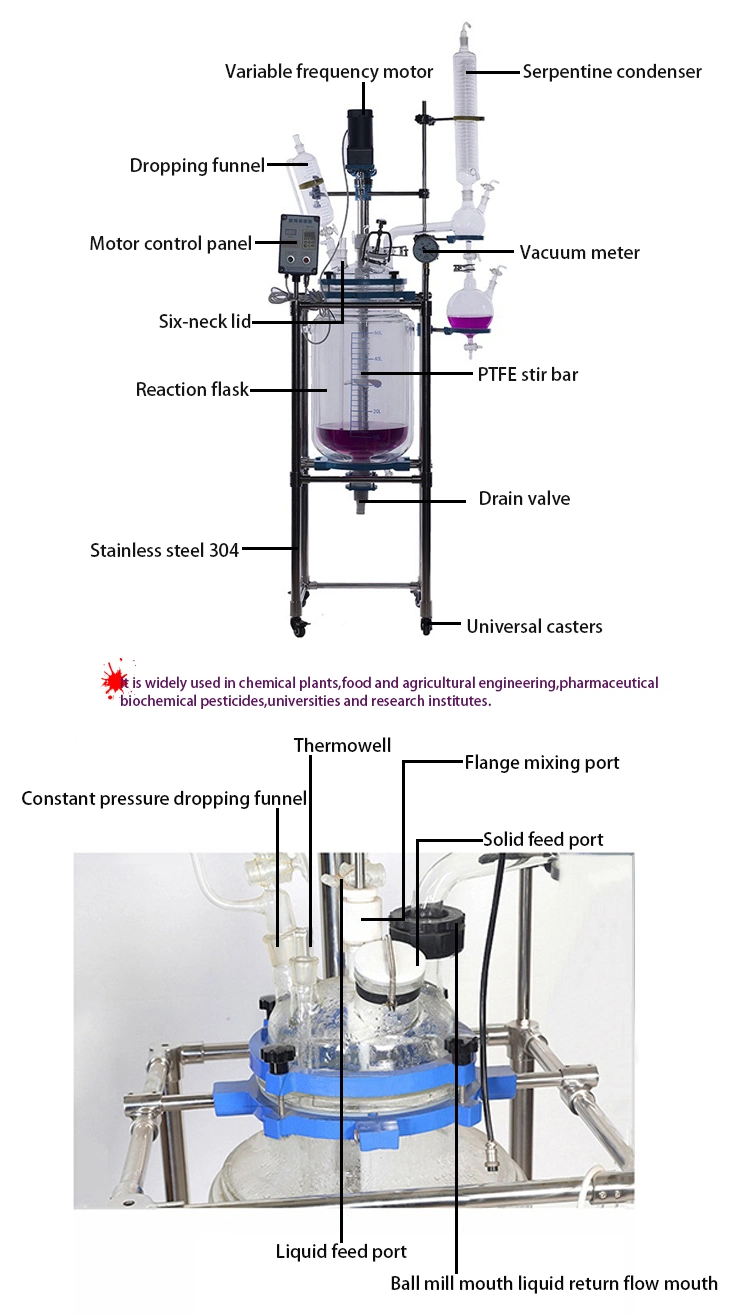 Universal castors with braking

Discharge outlet liftoff height

Reactor reaction temperature

Stirring diameter of axis

PTFE sealing, ¢50 flange stirring mouth


1. Constant rotate speed, no electric brush, no spark, safe and stable, enable continuous working.

2. Full set of glass part is produced by G3.3 borosilicate glass, owns excellent chemical and physical properties.

3. When glass interlayer connecting to hot oil and been circulated, it can do heating reaction, connecting to refrigerating
fluid can do low temperature reaction.

4. Enable reaction under normal temperature, that is connecting to tap water can take away the reaction heat quickly.

5. Discharge outlet has flange mouth and PTFE valve, there has no dead angle in vessel, detachable and convenient for
solid material to discharge.

6. Main body is made from stainless steel, which is beautiful and anti-corrosion.

7. Sealed by PTFE component, be able to maintain higher vacuum degree.

8. Be able to work under normal and negative pressure, negative pressure up to -0.098MPa.

9. Alternating current dynamo conducts frequency control stirring, reliable operation, large moment of force and no spark.

10. The inner core of stirring rod is made from 321 stainless steel, strengthened anti-corrosion property, military technology
makes workmanship more exquisite, operation with high proficiency.



Zhengzhou Well-known Instrument & Equipment Co.,Ltd, is a famous manufacturer of Lab equipment located
in the central China.The main products include rotary evaporator , glass reactor, water circulating vacuum pump,
low temp cooling liquid circulating pump and so on. So far, our products have been sold all over Asia, Europe
and America, and covered most of laboratories in China. We have become one of the most popular and trustworthy brands.

Though our foreign trade is not for long, we do have a history of more than 30 years of our domestic trade.
To assure the good quality & good service is our consistent aim.

We welcome new and old customers from all over the world to contact us for future business relationships
and achieving mutual success!!


Packing

-The rotary evaporator glass parts will be wrapped with foam, then put into the carton, the mainbody portion
will be packed in wooden cases;

-Both neutral and customized packaging can be available.

Shipping

-We can ship the goods to you by International Express such as DHL, UPS, TNT, EMS and so on, you can
also choose the appropriate one based on your timeline and budget. Besides, you can choose to use your
own shipping agent.



1. The period, scope and condition of the warranty.

(1)We offer 1 years warranty on the date of shipping from China. During the warranty time, because of
manufacturing&quality problem, we offer replacement, maintenance service.

(2)The damage caused by the transportation problem shall be borne by the seller.

2. How to solve the problem of your equipment?

Please send us email of the problem, pictures or a small video will be much better. we will find the
problem and tell you how to solve it. If there is a broken, we will send you a new part, and it is free in the
warranty period.

3.How to shipping the replacement parts?

We will according the actual situation to choose the suitable shipping ways. For small parts we shippin by Express.

4. Could you do customized for us?

We are a manufacturer that can provide all kinds of customized services.