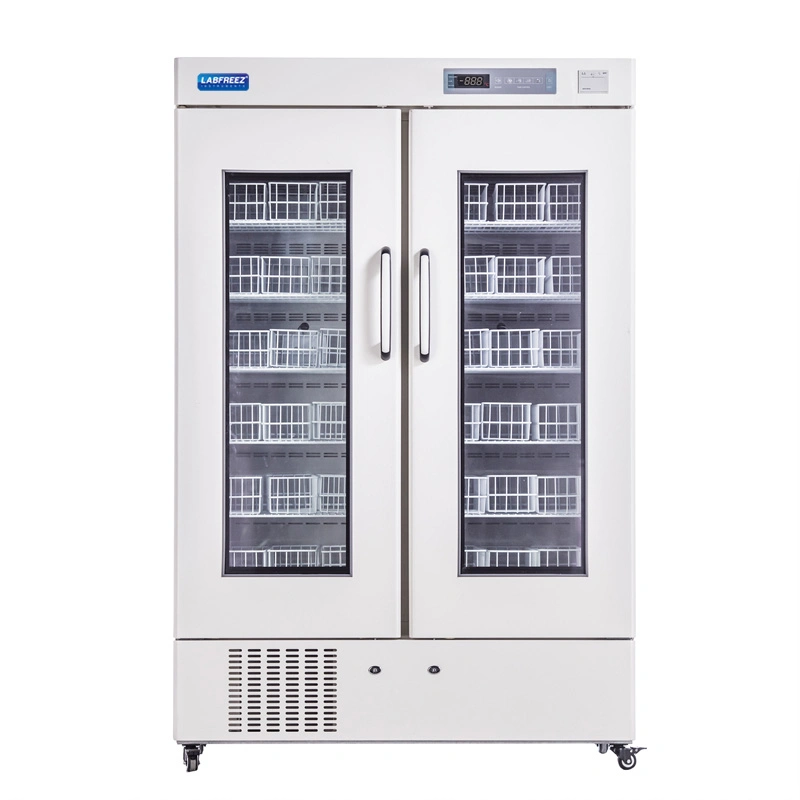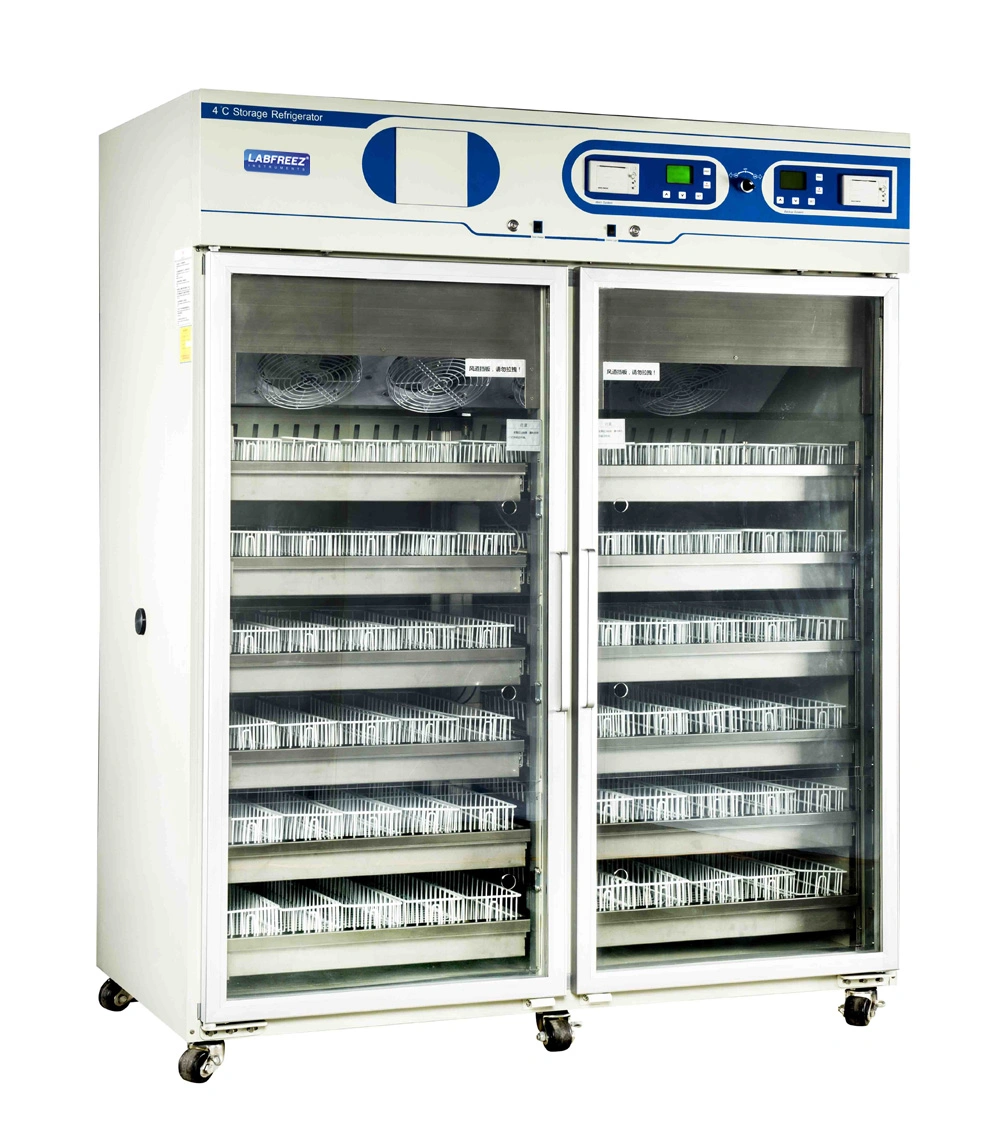 Blood Bank Refrigerator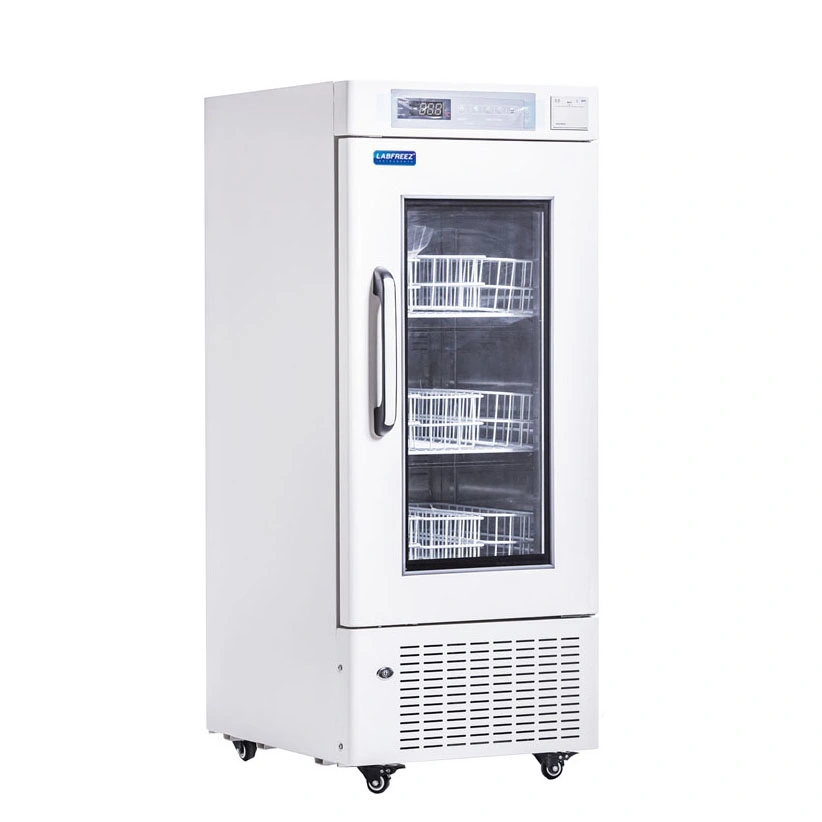 Appliance Area
Special for blood storage as well as medicine storage, bio-products storage.

Suitable for blood stations, hospitals and CDC
Advanced Cooling System
Ensure temperature fast recover and stability by intelligent controlled fan and forced-air cooling system, air-cooled chiller finned evaporator with unique circulation system design to ensure frost-free cooler environment, double-layer vacuum electric heating glass door, ensure the door will not get condensation under high temperature and high humidity environment
Precise Microcomputer Temperature Control
Microprocessor-based temperature controller, digital temperature display, temperature resolution is 0.1°C

Excellent refrigeration layout, ensure inside temperature is 4±1°C

;

Standard thermal printer can track and record the change of the temperature all-the-way;
Operating Security
For safety and reliability, alarm module keep monitoring surroundings and system status

Alarms: high and low temperature alarms, sensor failure alarm, power failure alarm for 72hours, abnormal door open alarm, backup battery failure alarm, condenser abnormal alarm.

Two alarm styles: buzzing, flashing
Avoid Falsification and Wrong Operation
Keyboard lock, password protection function, avoid set parameter randomly.
Power Failure Protection
When power restores, all devices would kick-off at one time, which could cause great impact to the power network, could lead to circuit breaker tripping. The delay start function would protect the equipment for several munities during restore period and make sure all device operate normally.
Humanized Design
Inner with SUS, external with color sprayed steel, foam glass door with electric heating, free from condensation, inner door, perfect insulation performance.

Equipped with baskets for blood bag storage,1008L with drawers

Safety lock design prevents any abnormal door status

Big screen display, easy to read

Test hole standard

;

Adjustable shelves design

;

Lights inside, make everything clear

Foam glass door design, better temperature without any affection on read

Independent transparent inner door, lowest air leakage while door open.

Self-closed and stop structure design, prevent door shut, easy to use.

Patented temperature box design, make the display temperature closer to blood temperature

SUS inner tank, anti-rust, anti-corrosion
Universal Design
Wide voltage available Range 187V~242V/50-60Hz available
Parameter:
| | | | | | |
| --- | --- | --- | --- | --- | --- |
| Model | MR-BKA-70 | MR-BKA-108 | MR-BKA-130 | MR-BKA-158 | MR-BKA-208 |
| External Size (W*D*H) | 450*550*860 | 522*600*1050 | 600*580*860 | 522*600*1250 | 522*600*1550 |
| Internal Size (W*D*H) | 370*460*640 | 432*462*478 | 432*500*843 | 432*462*728 | 432*462*978 |
| Voltage (V/Hz) | 220/50 | 220/50 | 220/50 | 220/50 | 220/50 |
| Power (W) | 140 | 160 | 240 | 180 | 200 |
| Temp. inside(°C) | 4±1 | 4±1 | 4±1 | 4±1 | 4±1 |
| Effective capacity (L) | 70 | 108 | 130 | 158 | 208 |
| Heating Element of door | Yes | Yes | Yes | Yes | Yes |
| Refrigerant | R134a | R134a | R134a | R134a | R134a |
| External material | Steep spray | Steep spray | Steep spray | Steep spray | Steep spray |
| Internal material | SS304 | SS304 | SS304 | SS304 | SS304 |
| Compressor | SECOP | SECOP | SECOP | SECOP | SECOP |
| Cooled | Forced air | Forced air | Forced air | Forced air | Forced air |
| Door Number | 1 | 1 | 1 | 1 | 1 |
| Shelf/inner door number | 1 | 2 | 4 | | 5 |
| N.W. (Kg) | 39 | 50 | 62 | 56 | 67 |
| | | | |
| --- | --- | --- | --- |
| Model | MR-BKA-658 | MR-BKA-760 | MR-BKA-1008 |
| External Size (W*D*H) | 1220*648*1885 | 1200*790*1870 | 1220*648*1885 |
| Internal Size (W*D*H) | 1100*454*1325 | 1080*610*1380 | 1100*454*1325 |
| Voltage (V/Hz) | 220/50 | 220/50 | 220/50 |
| Power (W) | 364 | 364 | 513 |
| Temp. inside(°C) | 4±1 | 4±1 | 4±1 |
| Effective capacity (L) | 658 | 760 | 1008 |
| Heating Element of door | Yes | Yes | Yes |
| Refrigerant | R134a | R134a | R134a |
| External material | Steep spray | Steep spray | Steep spray |
| Internal material | SS304 | SS304 | SS304 |
| Compressor | SECOP | SECOP | SECOP |
| Cooled | Forced air | Forced air | Forced air |
| Door Number | 2 | 2 | 2 |
| Shelf/inner door number | 10 | 10 | 10 |
| N.W. (Kg) | 165 | 168 | 256 |