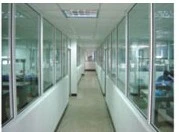 WYA ABBE refractometer
Measurement of refractive index ND, average dispersion nF-nc of transparent or translucent liquid and solid substances.
Measurement of mass fraction (Brix) of cane sugar solution.
Widely used in the field of sugar, pharmaceutical, beverage, petroleum, food, chemical industries as well as
Research institutes and educational department.
Visual aim, optical index-plate reading.
Easy and reliability.
Specifications:
Refractive indexnD: 1.3000-1.7000
Accuracy: ± 0.0002
Dissolved Solids Brix: 0-95%
Weight (net): 2.6kg
Overall dimensions: 200mm× 100mm × 240mm