Aflatoxin Analyzer with 20 samples / hour Test time for lab
Description
EAB1-2015 Microcomputer type aflatoxin, enzyme mark tester, adopts computer technology, easy to operation, has T,A,C measure and datum printing record, also dynamics part testing and Concentration of linear regression calculation, bring much convenience .
Usage
LAB1 is necessary analysis equipment for aflatoxin, ELISA analysis. Adopts the principle of using solid phase enzyme-linked immunosorbent ELISA, is consist of Aflatoxin meter and B1 kits, can quotative analysis aflatoxin B1 content in sample.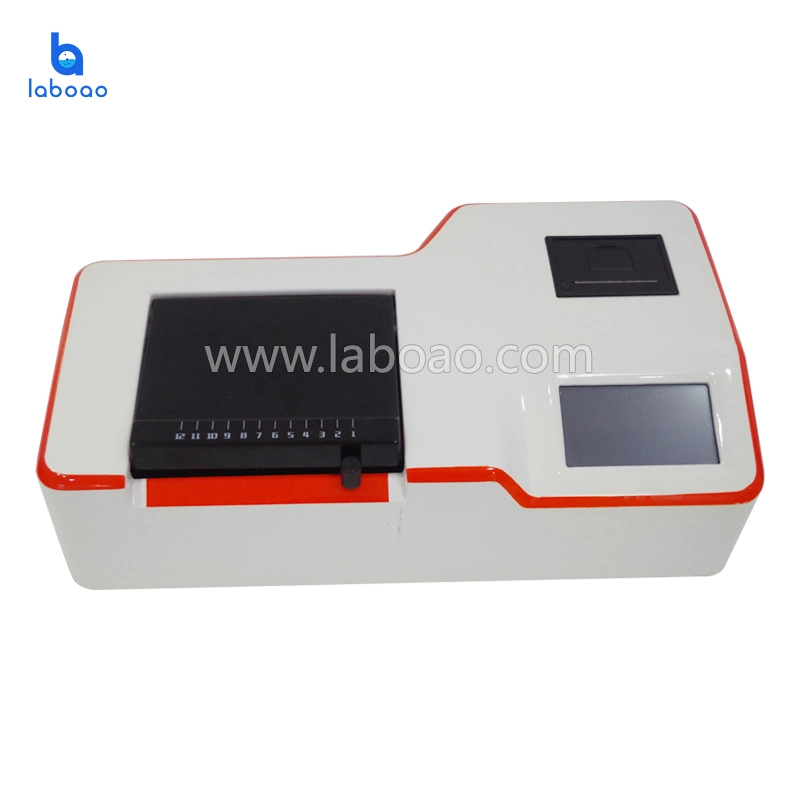 Application
LAB1 Microcomputer type aflatoxin, enzyme mark tester, also can test other mycotoxin with corresponding kits. It widely used in field of Immune pathology, microorganism antigen and antibody detection, parasitic disease diagnosis, blood disease diagnosis, plant diseases and pests and mycotoxin test in food, grain, feed, oil, milk, drink and wine.
Technical data
Measuring limit

0ng

Measuring range

≥0ng / ml (ppb)

Absorption range

-0.041~1.999(A)

Concentration

0.000~9999

Wave length

330~900nm(450±2 nm interference filter configuration)

Sensitivity

<0.1ng / ml

Accuracy

±0.1ng / ml

Test time

20 samples / hour

Light source

lighting tube 3.6V/20mA

Working environment

Temp:5~35

ºC

,Humidity:≤85%

Light current stability

≤0.3t(T)/5min

Dark current stability

≤0.2%t(T)/5min

Transmittance ratio range

0.0%t(T) ~110.0%t(T)

(T)swift accuracy

≤±0.004A

Power

40W

Power supply

220V±10%,50~60HZ

Size

410×264×110mm

Weight

10kg