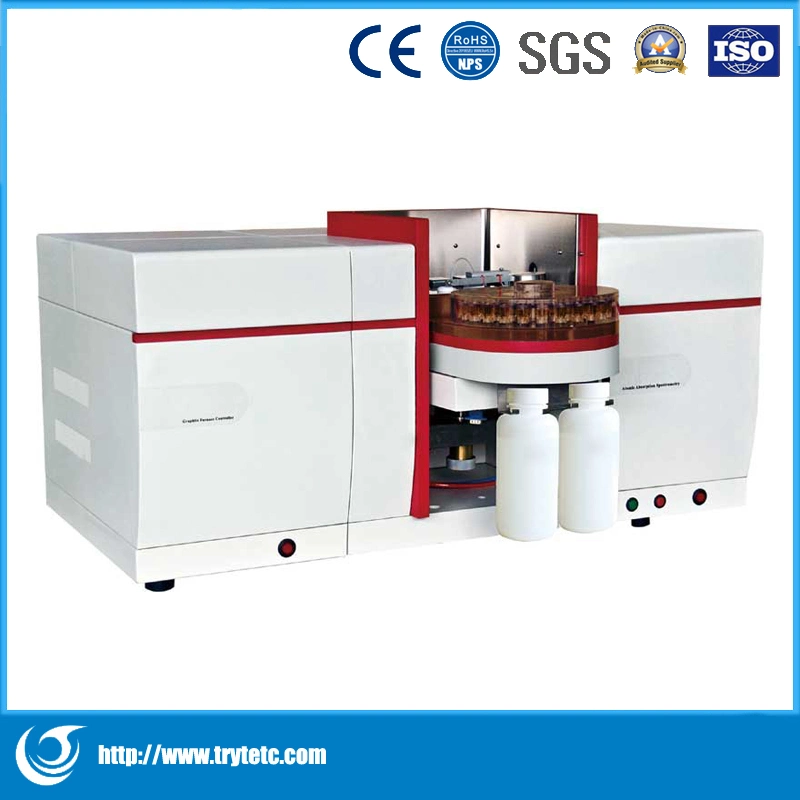 Instrument introduction:
TR-TCS-03 is a multifunctional and automatic atomic absorption spectrophotometer with very small size. It has a strong control and data processing ability. Full automatic analysis and test are done by PC and specialized AAWINLAB computer workstation soft.The operation is flexible and easy.The built-in small laboratory system has the function of total quality control(QC) and supports the functions of GLP and GMP. It can also achieve the coupling technique like automatic sampler and hydride generator.The instrument has advantages like high sensitivity ,accuracy and quick analysis speed.
Features:
1. aerosol -like inside and outside optical path integration structure and the CAN-BUS distribution system ensure the
expansibility of the instrument.
2. Six, eight or ten hollow cathode lamps can be installed (two hollow cathode lamps with high performance can be installed.)
3. Patented optical signal processing system and circuit design with high accuracy produce low electrical noise and resist
interference strongly.
4. Thermostable ,anti-corrosive entire titanium burner head and inertia polyphenylene sulfide atomizing chamber ensure easy
cleaning and non-memory effect.
5. The automatic switchover and the manual switchover of the atomizer are achievable. The instrument also has the functions
of auto-ignition and auto- flameout and automatic control of flux.
6. Intellectualized work software achieves the function of breakdown self-checking and automatic background adjustment
function.
7. Comprehensive security countermeasure:protecting instrument from abnormal,leak of acetylene alarm, theundervoltage
protection etc.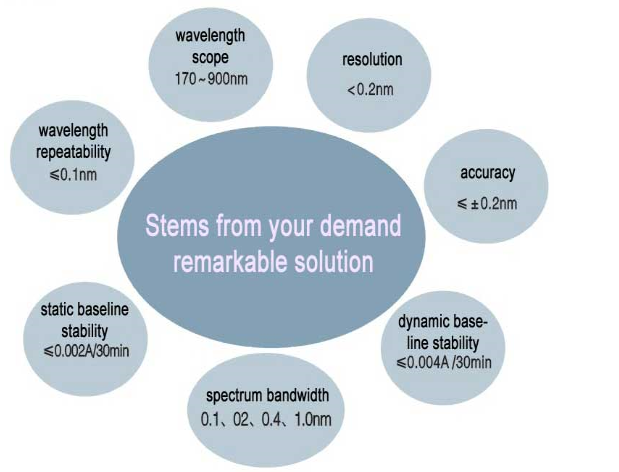 Analysis and Application:
TR-TCS-03full automatic atomic absorption spectrophotometer widely applies to the analysis and test of Cu, Ag, Au, Zn, Cd, Hg, Al and so on .

Enviromental Protection:
• Analysis of metal pollutant in atmosphere, water and soil
Medicine Health
• The analysis and control of metallic element in medicine production technics.
• The detect of metallic element in the process of Clinical and disease analysis ,like blood, urine, hair etc.

Food Sanitation
• Analysis of metallic element in each kind of food ,like meats, aquatic product, liquor, tea, dairy etc.

Geological Metallurgy
• Geological prospecting, mineral analysis, mineral appraisal etc.
• craft control of steel products smelting and analysis of impurity.

Agricultural Analysis
• analysis of various metallic element produced in agricultural production process, like grain ,seed ,vegetables ,feed , chemical fertilizer etc.

Cosmetics Analysis
• analysis of metallic element in each kind of cosmetics

Education Scientific Research
Teaching demonstration, student test , analysis of metallic element produced in the scientific research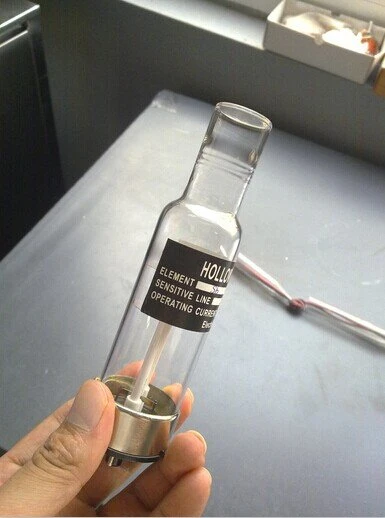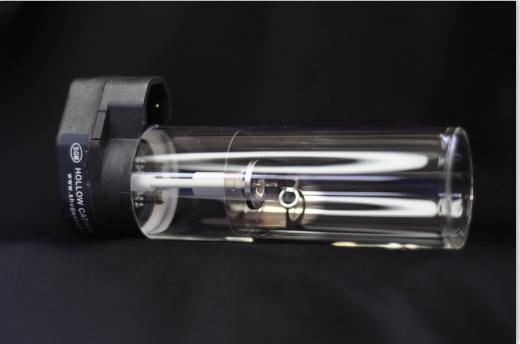 [VARIAN] [PE]
Technical Parameter:
Flame Analysis:
·Benchmark concentration of Cu <0.03μg/ml
·Limit of detection<0.005μg/ml (Cu)
·RSD≤0.8%
·Background calibration at 1A≥50 times
·the burner head of burner metal entire titanium 50 and 100mm can be exchanged
·The optimum height of position adjustment and the before and after position can be set automatically.

Graphite Furnace analysis:
·Benchmark concentration of Cd:0.5×10-12 g
·Limit of detection :1×10-12 g (Cd)
·RSD≤2% ·Temperature rising speed ≥2000ºC/s
·Temperature range : R.T.~3000ºC
·Heating way 9 steps, slope, step and warming way of the maximum power
·power control in the stage of drying process by controlling temperature. Light-controlled max. power temperature rising in atomization process
Graphite Furnace auto-sampler:
Intelligent sample configuration, self-cleaning ,self-diagnosis function
the number of sample :sample 50 set,trial produce 5 set
Basic parameter:
Main machine
Dimension: 610×500 ×450mm(length×height×width)
Weight of the instrument :45Kg Power:150W
Power:220V±22V 50HZ±0.5HZ
graphite furnace
Dimension: 240×500 ×450mm(length×height×width)
Weight of the instrument :60Kg Power:3600W
Power:220V±22V 50HZ±0.5HZ
Service Support:
High quality research and application team will reply your service demand promptly. Helping users to develop analysis method of chromatograph and spectrum is free of charge and sample test is also provided.
Packing: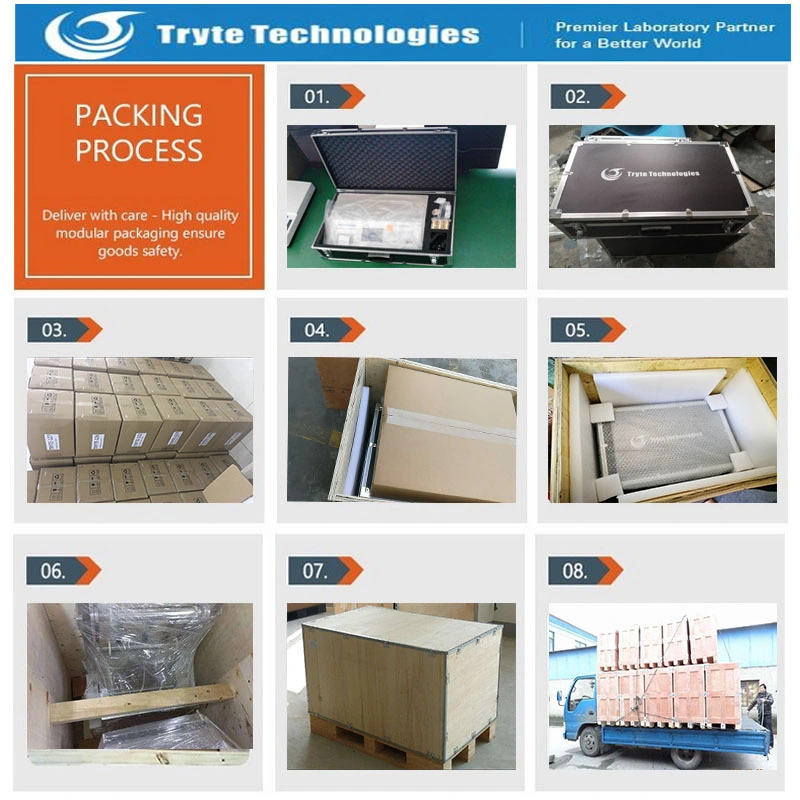 Company Information:
As a diversified manufacturer of high-tech products, it was founded in 1999, and devoted to the products, sales and technical service for various industries and fields like Energy analysis instrument, Oil, coal, steel, and geology; medical analysis and application instruments, biochemistry analyzer, elisa reader, blood analyzer,and urine; as well as laboratory application instruments,autoclave/sterilizer,freeze dryer, incubator,drying oven,balance,ICP,DRS,HPLC,gas chromatography,and spectrophotometer,meanwhile,TRYTE Technologies integrated and purchased some companies of PCB board, highway instruments at home and abroad. Our company has become the "one stop" instrument procurement service provider worthy of the name.
TRYTE technologies (TRYTE) mainly sell products by selling direct to customer, but also through distributors, resellers and manufacturer representatives, telephone sales and e-commerce sales, customers cover all over 80% of the world's countries and regions.TRYTE have solutions with rules adaptability according to the specific requirements of the design, from the instrument to some laboratories or departments.Whichever kind of solution you choose, you can fully trust it, because it is proved from 100, 00 successful results, leading development process, and decades of actual certification experience.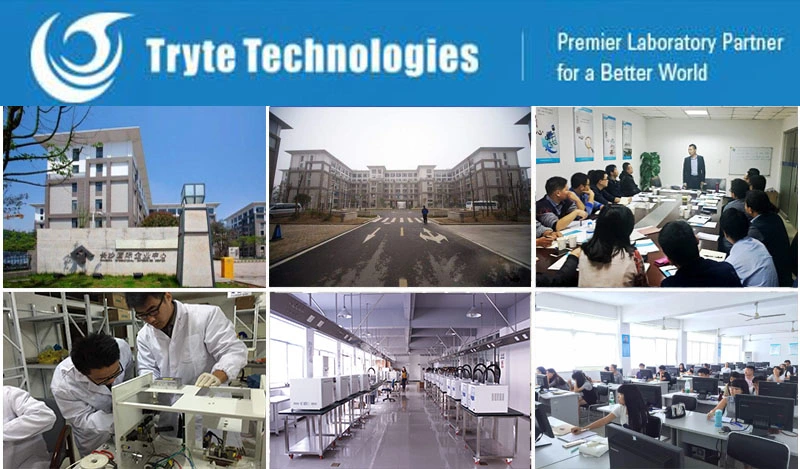 Why choose us?
1. We supply high quality products with reasonable price.
2. We are the professional manufacturer;
3. Advanced production machine;
4. Strict quality control system;
5. Ten people research&develop team;
6. We have professional sales team;