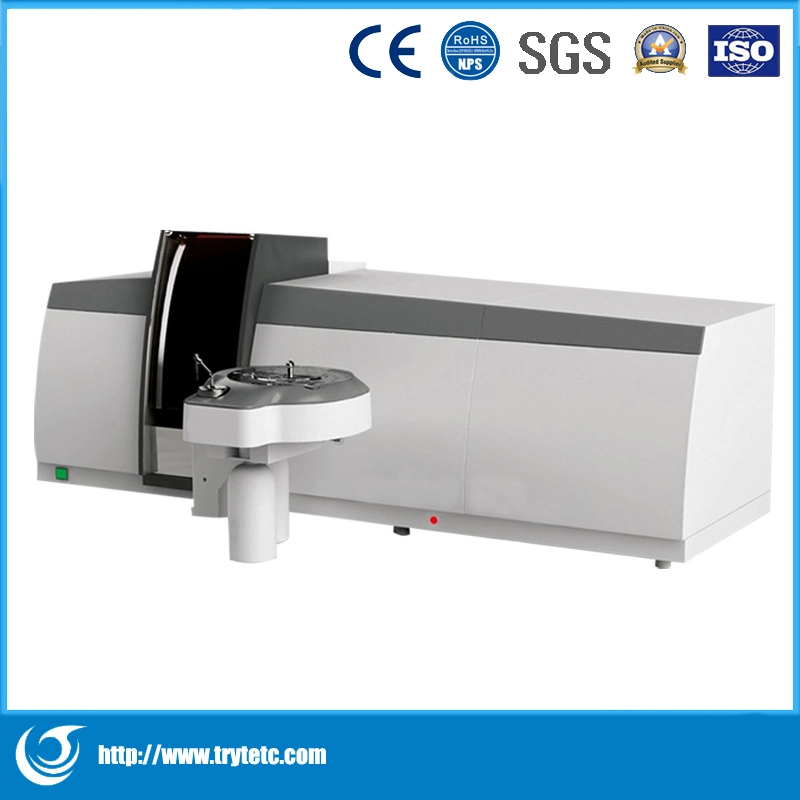 TR500 COMBINED FLAME & GRAPHITE FURNACE AAS
DESCRIPTION:
This Atomic Absorption Spectrometer Flame & Graphite Furnace system. Fully computer controlled,eight lamp self alignment hollow lamp turret. D2 and Self Reversal background correction. Easy change over between Flame and Furnace analysis.
Configuration(According to the customer request)
PART #
DESCRIPTION

500HOST

500 Flame and Furnace Combined AAS
A coded air/acetylene burner assembly is included.

500-032

Complete installation kit for PG500 Combined Flame and Furnace Graphite System

Air Compressor

flash back Arrestor

Acetylene Gas Regulator

Nitrous Oxide regulator

Water Circulator System

Argon Regulator

500-023

Coded Nitrous Oxide Burner 50mm Titanium Alloy Burner Head.

500-007

Hydride System for 500 AAS system (manual)

HCL

Hollow Cathode Lamps of Customers choice
Mn, Sn, Si, Mg, Cu, Co, Fe, Ni, Au, Ag, Pd, Pb, Zn, Ta, Pt
Model

TR500

Wavelength range

185 - 910nm

Wavelength Accuracy

± 0.15nm

Wavelength Reproducibility

< 0.05nm

Resolution

0.2nm ± 0.02nm

Baseline Stability

0.005A/30min

Sensitivity (Cu)

2 μg/ml Absorption > 0.28A (flame)

Detection Limit
Cu < 0.004 μg/ml (flame) Cd < 0.4 x 10-12g (graphite furnace)
Repeatability
Cu < 0.7% (Air/Acetylene flame)
Ba < 1.0% (Nitrous oxide/Acetylene flame)
Cu < 2.0% Cd < 2.0% (Graphite Furnace)
Characteristic Concentration

Cu < 0.02 μg/ml, Ba < 0.15 mg/ml (N2O/Acetylene)

Burner Heads

Made of titanium, with code to remind the user the burner type and the gas system

Burner Unit Type
Three kinds of burner heads,
Ø coded air/acetylene burner, 100mm slot
Ø coded Nitrous Oxide Burner, 50mm slot
Ø Coded Low Temperature Burner Assembly with three slits for trace analysis of Alkali metals.(Sodium, Potassium, Lithium, Barium and Calcium)
Nebulizer
High efficiency glass nebuliser(standard configuration)
Pt-lr capillary with Teflon orifice (optional, additional charges)
Graphite Furnace

Transversal heating system to atomizing and prolong graphite tube life

Graphite Tube

Platform tube

Position Adjustment

Automatic changeover

Detector

Photomultiplier with nine discrete detectors

Lamp mount

the ability to adjust or replace the lamp without removing the instrument covers

Lamp holder

to protect user's hand from touching electricity

No. of lamps mounted
8 lamps, 2 user-selected lamps can be illuminated at the same time
(1 for measurement, 1 warming up for next measurement)
Background Correction
High-speed self-reversal method (BGC-SR): 3.0Abs
high-speed deuterium lamp method (BGC-D2): 1.0 Abs
Light source
Type
Hollow cathode lamp (HCL), D2 lamp
Modulation mode

Square wave pulse

Modulation frequency
400Hz (D2 lamp background correction mode)
Optical System
Model

Czerny-Turner monochromator

Chromatic/optical dispersing component

Planar diffraction grating

Grating

1800 grooves/mm

Blazed wavelength

250nm

Focus

300mm

Bandwidth

0.1,0.2,0.4,1.0,2.0nm (software selectable)

Scan mode

Automatic

Photometer type

Single beam

Atomization system

Three types of Titanium metal burner head( single slit: 100mm x 0.6mm ), rot-proof spray chamber, high efficiency glass nebulizer, burner height auto-adjustable

Atomization Chamber

Corrosion-resistant material

Data Processing System
Measurement mode

Absorbance, concentration, transmittance, emission intensity

Read-out mode

Continuous, peak height, peak area

Output mode

On-line instrument operating status Display, CRT Display & Printout of measurement results, calibration curve, signal profile, instrumental parameters and all other kinds of graph etc

Data processing functions

Multi-standard calibration method, standard addition method, interpolation method

Integration time (0.1~20 seconds)

Sampling delay (0~20 seconds)number of standard samples (1~8 ), number of samples (0~100), slope, mean value, standard deviation (S.D.), relative standard deviation (R.S.D.) etc., correlation coefficient and concentration values

Data storage

Analytical results, instrumental and measurement parameters, signal profile and calibration curves all can be stored in the computer hard disk

Automatic measures
Ø Lamp position Control
Automatically position the hollow cathode lamp and optimise the light path of each hollow cathode lamp
Ø Light energy control
Automatic adjustment of the negative high voltage and lamp current to balance the energy
Ø Bandwidth control
Automatically change over spectral bandwidth among 0.1, 0.2, 0.4, 1.0, 2.0nm
Ø Wavelength scanning
Automatically scanning the wavelength and searching the peak
Ø Atomizer Positioning Control
Automatic adjustment of the position of the graphite furnace position
Ø Gas Control
Automatically monitor argon gas pressure
Automatically switch off inner gas inside the graphite tube to improve the rate of atomization
Ø Cleaning sample
Automatic cleaning sample inside the graphite tube after atomizing
Power requirements

Power supply Main unit 220V, 50Hz, 200W

graphite furnace power supply 220V,the maximum instantaneous power 5KW

Instrument dimensions

1100mmX535mmX540mm, weight: 130Kg

Safety Functions
Burner Identification, Flame Sensor, Gas leak Sensor, Low Gas
Pressure Sensor, Drain Trap Sensor, Power Loss Protection,
Circulation Water (graphite), Over Temperature Sensor (graphite)
Accessories:
Auto-sampler for Flame model
Universal auto-sampler for flame and graphite furnace.
When connection with flame system, there are 38 vessel position:
6 standard sample, capacity: 12ml
32 unknown sample, capacity: 6ml
Reproducibility:
Cu<0.6% (Air-Acetylene method), Cu<1% (Air-LPG method)
Ba<1% (Nitrous oxide-Acetylene method)
Automatic Dilution function: the maximum dilution multiple is 120, linearity less than 0.995.
Automatic rinsing
Automatic Addition of matrix modifier, up to 3 matrix modifiers
pressure protection for wash
Corrosion-resistant sampling
Power supply: AC220V/50Hz
Auto-sampler for Graphite Furnace[optional]
Universal auto-sampler for flame and graphite furnace.
When connection with graphite furnace, there are 76 vessel position:
10 standard sample, capacity: 1.5ml;
60 unknown sample, capacity: 1.5ml;
6 modifier solution, capacity:12ml
The sample volume: 0---100 mL
Reproducibility: Cu<2%, Cd<2%.
Automatic Dilution function: the maximum dilution multiple is 120, linearity less than 0.995.
Automatic rinsing
Automatic Addition of matrix modifier, up to 3 matrix modifiers
pressure protection for wash
Corrosion-resistant sampling
Power supply: AC220V/50Hz
Hydride Generator

Detection Limit is approximate 2/3 Characteristic Concentration.

RSD<3% (Abs 0.2---0.4Abs)

Efficiency, 120 samples/h

Cooling Water System:

Temperature range: 0-50ºC;

Capacity: 32L

Oil Free Air Compressor

Oil free compressor with air filter is available
The AA-Win pro Software Analyzer System: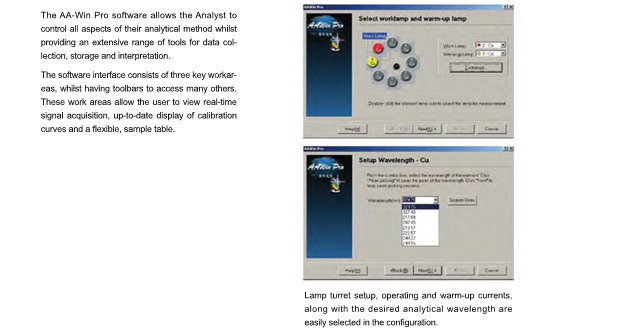 Flame Analysis & Graphite Analysis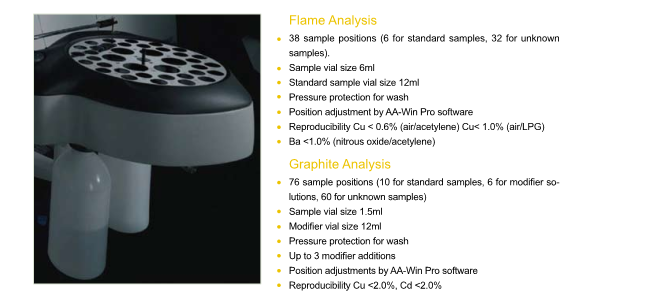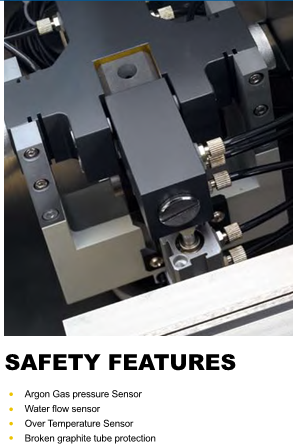 Packing: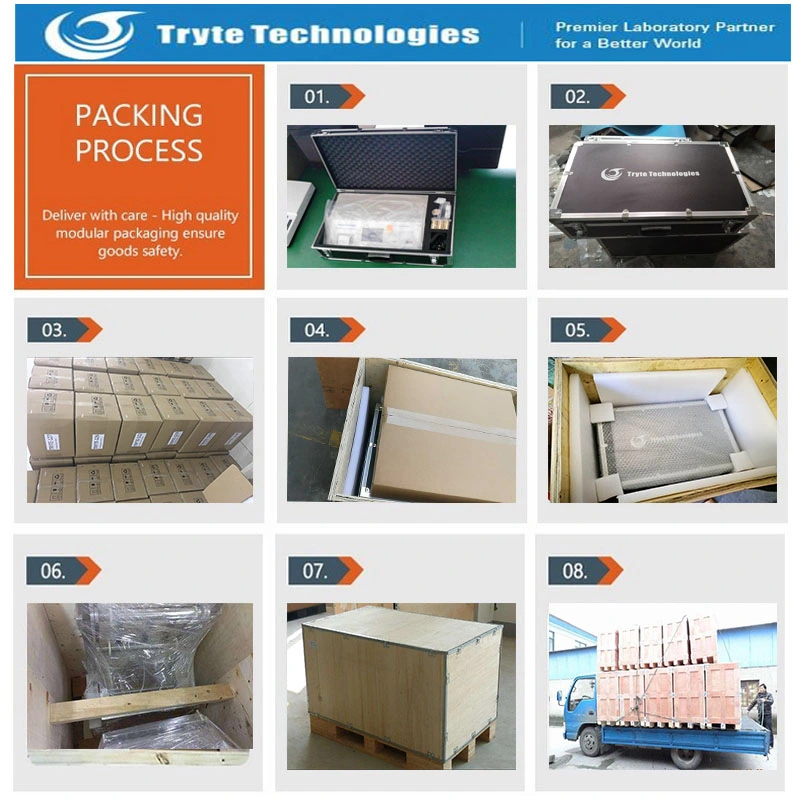 Company Information:

As a diversified manufacturer of high-tech products, it was founded in 1999, and devoted to the products, sales and technical service for various industries and fields like Energy analysis instrument, Oil, coal, steel, and geology; medical analysis and application instruments, biochemistry analyzer, elisa reader, blood analyzer,and urine; as well as laboratory application instruments,autoclave/sterilizer,freeze dryer, incubator,drying oven,balance,ICP,DRS,HPLC,gas chromatography,and spectrophotometer,meanwhile,TRYTE Technologies integrated and purchased some companies of PCB board, highway instruments at home and abroad. Our company has become the "one stop" instrument procurement service provider worthy of the name.
TRYTE technologies (TRYTE) mainly sell products by selling direct to customer, but also through distributors, resellers and manufacturer representatives, telephone sales and e-commerce sales, customers cover all over 80% of the world's countries and regions.TRYTE have solutions with rules adaptability according to the specific requirements of the design, from the instrument to some laboratories or departments.Whichever kind of solution you choose, you can fully trust it, because it is proved from 100, 00 successful results, leading development process, and decades of actual certification experience.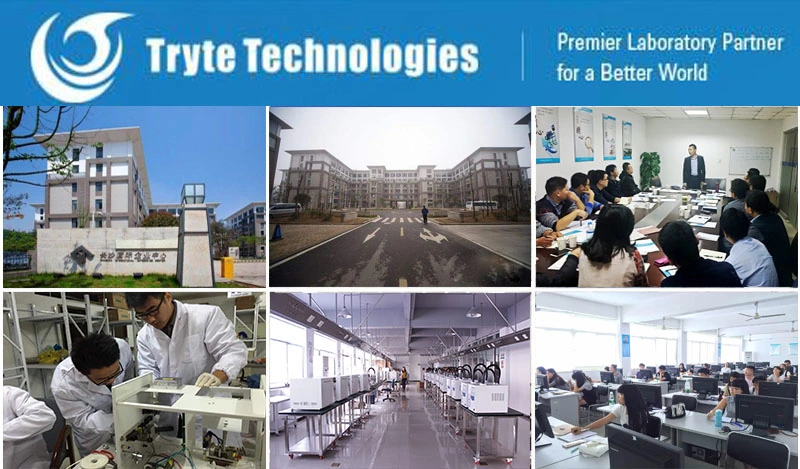 Why choose us?
1. We supply high quality products with reasonable price.
2. We are the professional manufacturer;
3. Advanced production machine;
4. Strict quality control system;
5. Ten people research&develop team;
6. We have professional sales team;