Bakery machines bakery oven Hot-Air Commercial Convection Oven Baking Oven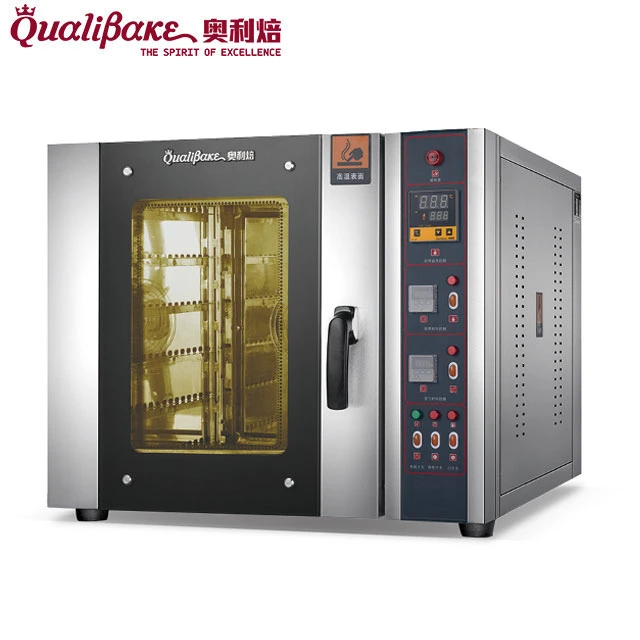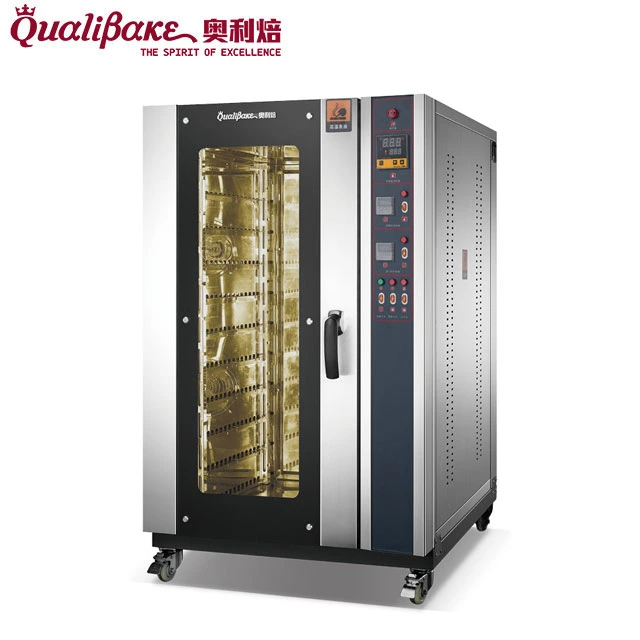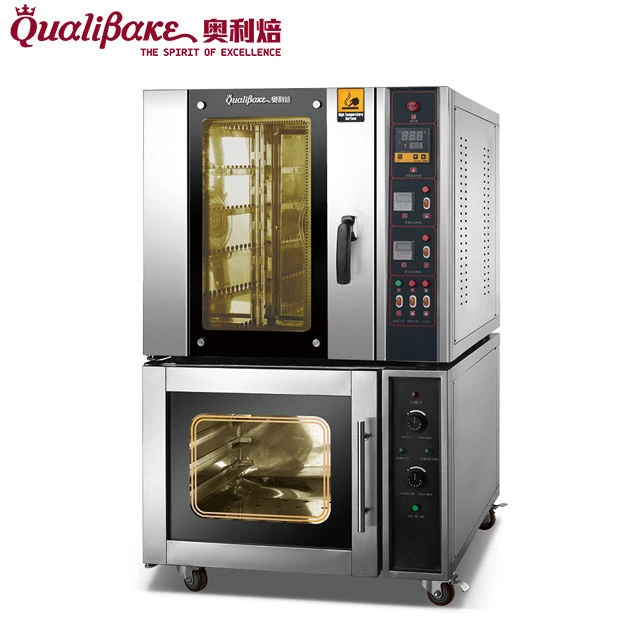 Company Information
Qualibake ,one of the bakery equipment manufactures with big scale in mainland,is a comprehensive baking equipment manufacturing enterprise who is a collection of independent professional research and development production,sales and afrer-sales service ,for a long time serve for the general customers to provide the best solution of the professional baking production line.
| | | | | | | |
| --- | --- | --- | --- | --- | --- | --- |
| Model | Power supply | Frequency | Power | Capacity | Dimension | Weight |
| QH-5D | 380V3N | 50/60Hz | 7.5KW | 5trays | 900*1270*770mm | 200kg |
| QH-8D | 380V3N | 50/60Hz | 14.5KW | 8trays | 900*1250*1270mm | 280kg |
| QH-10D | 380V3N | 50/60Hz | 14.5KW | 10trays | 900*1300*1470mm | 300kg |
| QH-5Q | 220V/1N | 50/60Hz | 0.65KW | 5trays | 900*1320*940mm | 200kg |
| QH-8Q | 220V/1N | 50/60Hz | 1.3KW | 8trays | 900*1380*1420mm | 300kg |
| QH-10Q | 220V/1N | 50/60Hz | 1.3KW | 10trays | 900*1380*1640mm | 330kg |
1.Gas hot air circulation oven,ideal equipment for hotels,restaurants,cake and bread shops.
2.High quality of heating elements,fast heat up ,saving energy.
3.Safe protection for temperature exceeding.
4.Have a nice roasting display effect.
5.Hot wind cycle,to give more average heating to food.
6.Heating reflecting interior for energy efficiency.
Detailed descriptions of Qualibake convection oven with steam system
1. Hygienic stainless steel construction for ease of cleaning and durability.
2. It has steam system and hot-air circulation function which is good for French bread or other food's baking.
3. Germany Schneider brand name spare parts are used for this oven. High quality spare parts extend oven life span and give oven steady performance.
4. Digital controller is from a Taiwan brand. It's wear-resisting index is up to 200, 000 which is twice as the other brand names.
5. Two digital timers. One is for baking time set-up, the other is for water spray time set-up.
6. Large glass window and lights in the chamber provide good baking view.
7. There are hot-air outlets at both left &right sides near the door. User could choose to open or close the outlets base on their baking needs.
8. The clear height between trays could be adjustable.
9. Special designed steam generator to avoid steam explosion.
10. Unique round exhaust design to reduce the oven air pressure and to lead out waste air. This design has two functions-avoid any explosion caused by high pressure at the mean time it could ensure against lose of heat.
11. There is a air blower located at the back side of oven. This blower works as heat radiator to protect electric spare parts from overheat.
12. Automatic water in-charge & discharge system.
Qualibake produces the following machines: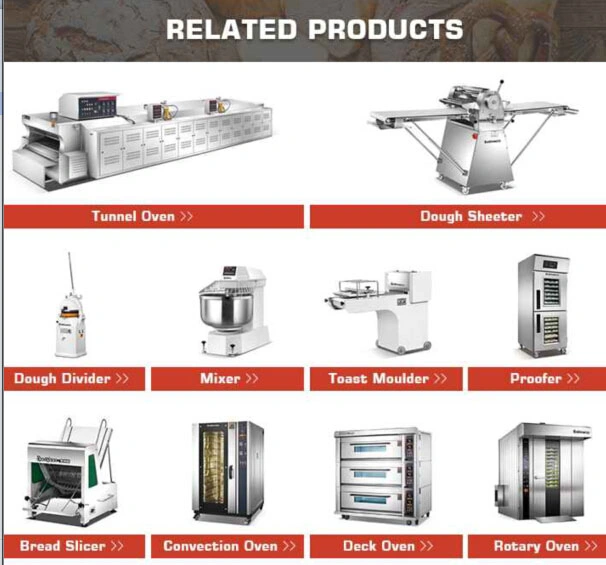 1. Tunnel oven---Gas, Electric & Diesel heated.
2. Rotary oven---Gas, Electric & Diesel heated, 16 & 32 trays capacity
3. Convection oven---electric & gas heated, 5, 8 & 10 trays capacity
4. Harmony Modular deck oven---Gas & Electric heated with 1 trays, 2 trays, 3 trays & 4 trays per deck.
5. Bread Proofer with touch bottom controller, 16&32 trays capacity.
6. Planetary mixer---5L, 7L, 20L, 30L, 40L&60L.
7. Spiral mixer---25kg, 50kg, 75kg &100kg.
8. Dough divider, dough sheeter, dough moulder, pizza dough roller, bread slicer...
FAQ
Q1:Are you a trading conpany or factory?
A:We are a factory located in Foshan city,China. Supply high quality baking equipment with factory price.
Q2:What is the payment term?
A:We can accept all kinds of payment term as our client's like.
Q3:What product do you manufacture?
A:We manufacture the baking equipment,including all kinds of Oven,Mixing equipment,Proofing equipment, Molding equipment,Bread slicer, ect.
Q4: What is the delivery time?
A: It takes about 15~20 working days usually after receipt of your deposit. Some times, we maybe have some stock for some products, please contact us for detail.