Certified Fuel Colorimeter ASTM D1500(TP-225)
Description
TP-225 petroleum products colorimeter for oil is designed and manufactured under standard SH/T0168 in"Petroleum Products Chroma Determination Method" and complies to ASTM D1500 standard. It is applicable to test color of various lubricants, kerosene, diesel and other petroleum products.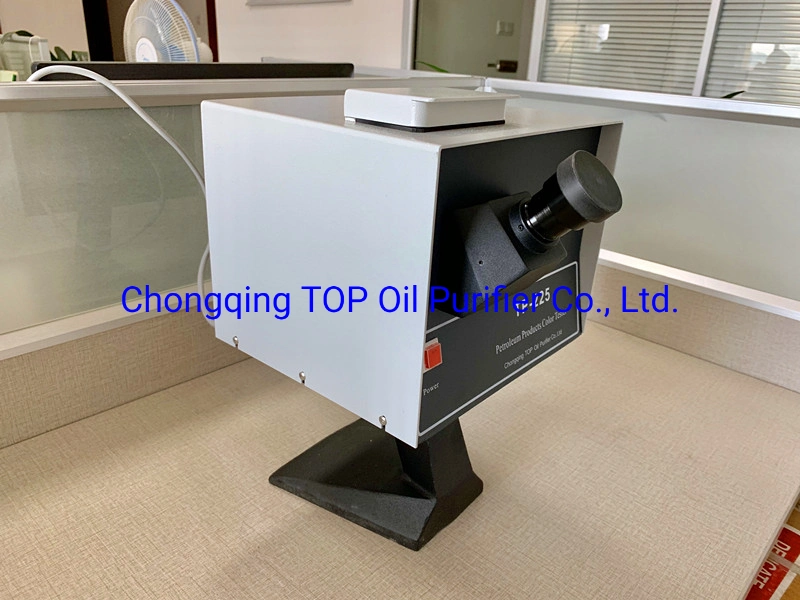 Feature
1. TP-225 consists of standard color disc, observation optical lens, light source, colorimetric tube.
2. Take the inside-frosted bulb of 220V / 100W and color temperature 2750 ± 50K as standard light source. After Source light color filter through the milky glass and sunlight filter glass, the spectral characteristics of the resulting standard light similar to North Light.
3. The light of petroleum products Chroma tester through the filter, then form two parallel beams, their size and shape are exactly the same, uniformly irradiated on the sample of color glass in standard color wheel and sample colorimetric tube, and through the prism and lens reflex, then enter into the eyepiece.
4. There are 26 Φ14 light holes, of which 25 were 1-25 sequence containing color number standard color glass sheet, the twenty-sixth is blank, the color wheel on the right side hole, so that the operator selects the correct standard corresponding color when toggle the standard color wheel, and compares the standard color in standard color wheel and color of samples in color tube.
5. Colorimetric tube is a flat glass tube, which inner diameter Φ32 mm, height of 120 to 130 mm of colorless. Colorimetric tube is put into the cavity from a small cover on top of the instrument.
6. Observed eyepiece consist of optical lenses, you can observe standard color glass samples in the eyepiece. Both the two colors each occupied semicircular area, which left for the sample color, the right to a standard color on the color wheel. Optical eyepieces have focusing and light adjustment capability, also easy to use.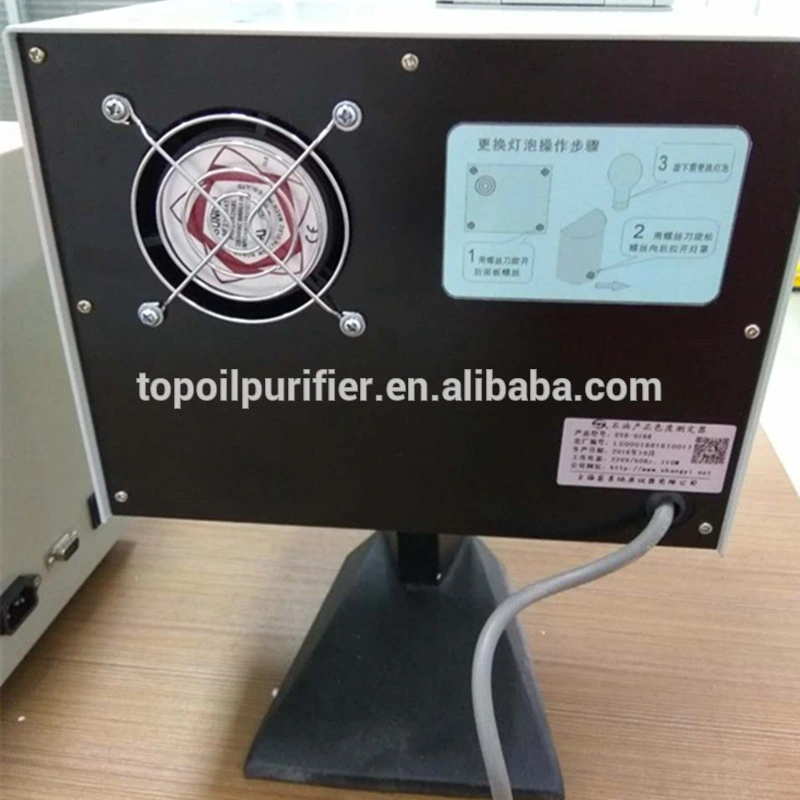 Related products
Our oil filtration machine:
Series ZY Single-Stage Vacuum Transformer Oil Purifier
Series ZYD Double High Vacuum Transformer Oil Purifier
Series ZYB Multiply-Function insulating oil treatment machine
Series TY Turbine Oil Purification Apparatus
Series TYA Lubricating oil/ hydraulic oil purification unit
Series TYB Portable light Fuel oil purification machine
Series TYD Vacuum dehydrator
Series TYF Phosphate ester fire-resistance oil purifier
Series PL Plate pressure oil purifier
Series TYD Vacuum dehydrator
Series EFD Explosion protection filtration machine
Series BAM Press filtration system
Series ZKCC Vacuum pumping device
Series COP Cooking oil purification machine
Series CYS Centrifugal oil purification machine
Series JL Portable oil filtering and oiling machine

Our oil tester/ analyzer:
Series IIJ-II Insulating oil breakdown strength tester(oil BDV tester)
Series HTJS-H Insulating oil dielectric tester (dielectric loss tester for insulating oil)
Series HTJS-V Tan-Delta Tester (anti-jamming dielectric loss tester for HV electrical equipment)
Series TP-3A Water content tester/ moisture sensor
Series TPV-8 Viscosity analyzer
Series TPC-2100 Flash point analyzer (close cup)
Series TPO-2100 Flash point analyzer (open cup)
Series CL-3 Interfacial tension analyzer
About us:
Hello Friend!
Chongqing TOP is a professional leading manufacturer and supplier of oil purifiers and various related testers. We consists of departments respectively for technological development, machinery manufacture, instrument manufacture, quality control etc. On basis of mature development and manufacture technology and highly qualified production management team, the products own high quality, easy operation, excellent performance and lone service life.
Customer satisfaction is our utmost priority thus, customer service team is always on the brink to help our customers with their queries at any time.
We believe in working as a unit with an attitude of complete trust and understanding and are determined to provide safe, reliable and competitively priced products to our customers.
TOP Oil Purifiers
uses single or multi-stage filtration to remove, particulate, free water, and small quantities of dissolved water if necessary. The systems are usually customized to suite the specific customer application. Oil "regeneration", "reclamation", "recycling" are all terms used to describe the process of restoring used, aged, contaminated oils to "like new" reusable condition. The reclamation process removes free water, most dissolved water, dissolved gas, particulate, carbon contamination, acids, oxidation by products, most color bodies, wear metals, and most additive chemicals.
TOP Oil Testers
works on the development, production, market, technical and after-sale service for petrochemical analyzers, transformer substation electrical testing equipment and circuit detecting equipment. Main products are water content testers, surface/interfacial tension testers, flash point testers, kinematic viscosity testers, oil acidity testers, insulation oil dielectric strength testers, transformer characteristics testers, relay protection testers, high voltage testing equipment etc.