China Lab Atomic absorption spectrophotometer,Flame photometer,UV-VIS spectrophotometer

Model: MCA-320N
Atomic absorption spectrophotometer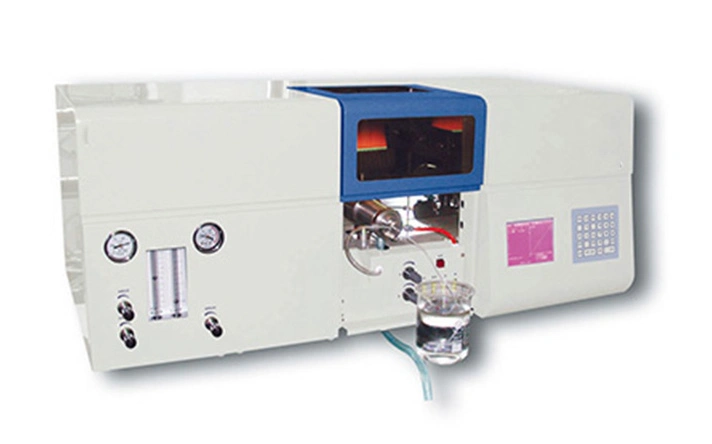 Light source system
Hollow cathode lamp power supply: current adjustable; deuterium lamp power supply: current fixed
Optical system Dual-beam total reflection system, C-T monochromator, blaze wavelength 250nm
Flame atomic system
100mm single peak titanium alloy combustion head, gas pressure with pressure, high-precision regulator flow regulation, gas, power, anti-tempering function and logic interlock protection device
signal system
The standard curve has linear regression, curve fitting, multi-point standard correction; can calculate the average, the standard deviation, the relative standard deviation of the relevant data, the standard deviation of the standard curve, Can display and print the standard mean, standard deviation, the relative standard deviation of the relevant data, can display and print the standard curve, the atomic absorption peak map, line contours and data and instrument parameters and analysis reports, etc.
Standby interface RS232C interface and USB interface
Host power supply AC220V ± 22V, 50H ± 1Hz

GA3202 Graphite Furnace System
For trace and traceability analysis,
Absolute sensitivity of 10-10 to 10-20 grams
Hydride generator (fully automatic)
So that the concentration of arsenic, selenium, antimony, bismuth, lead, tin, tellurium, germanium, indium, thallium, cadmium, zinc and other elements below the ppb level, with cold atomic mercury method
Hollow cathode lamp specifications
Graphite tube specifications full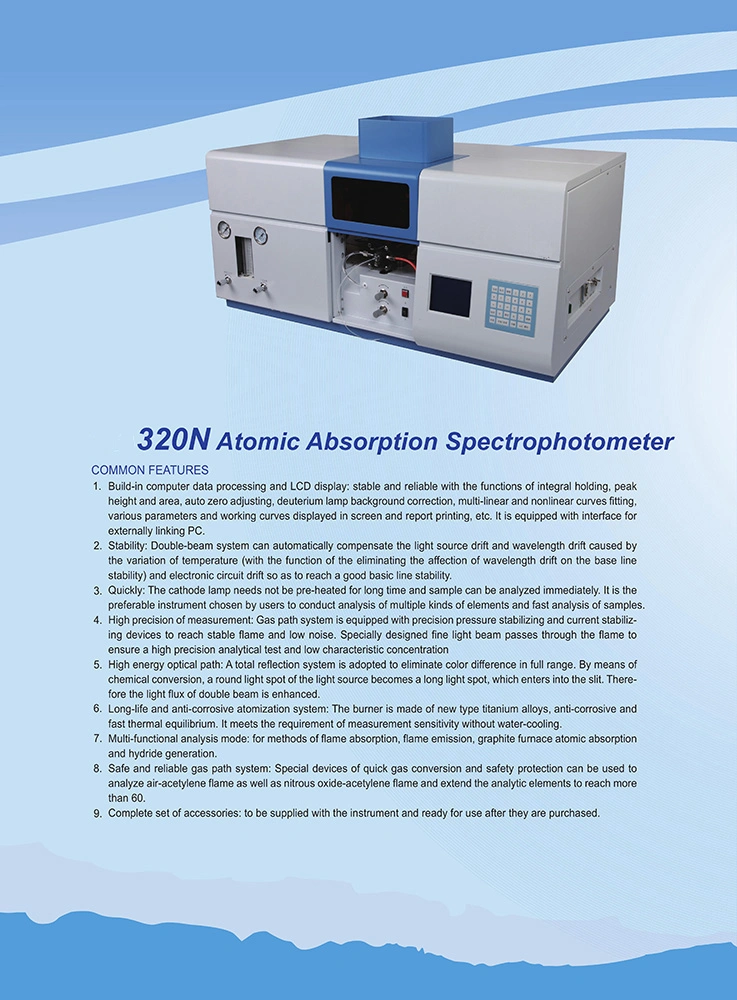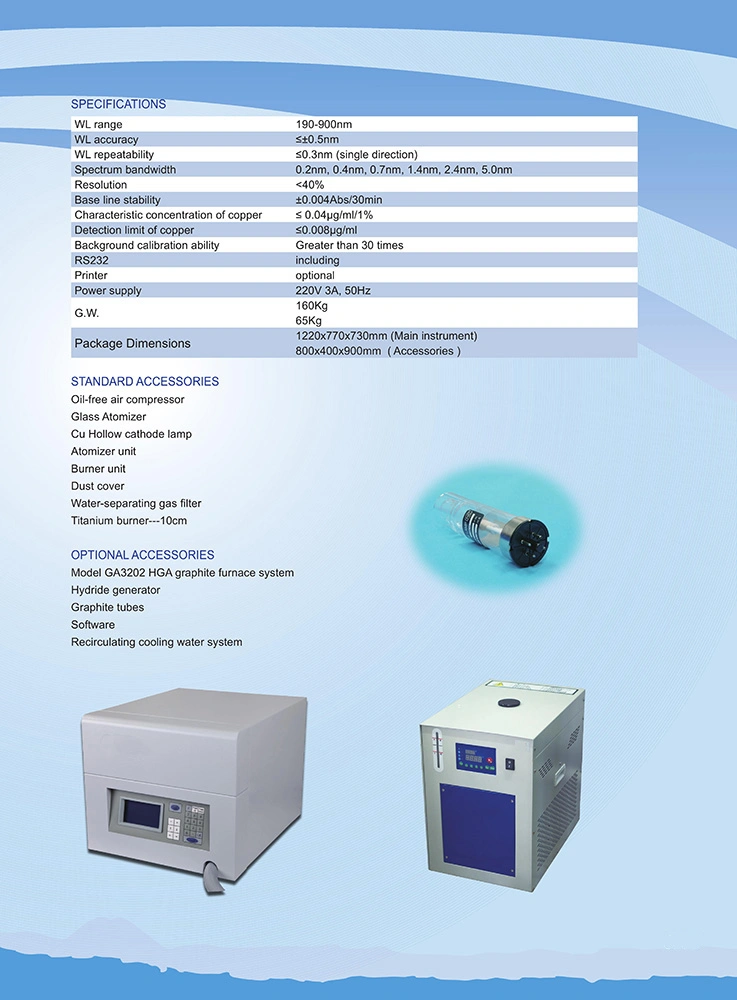 Other models of spectrophotomete:
MCN-4S UV-VIS spectrophotometer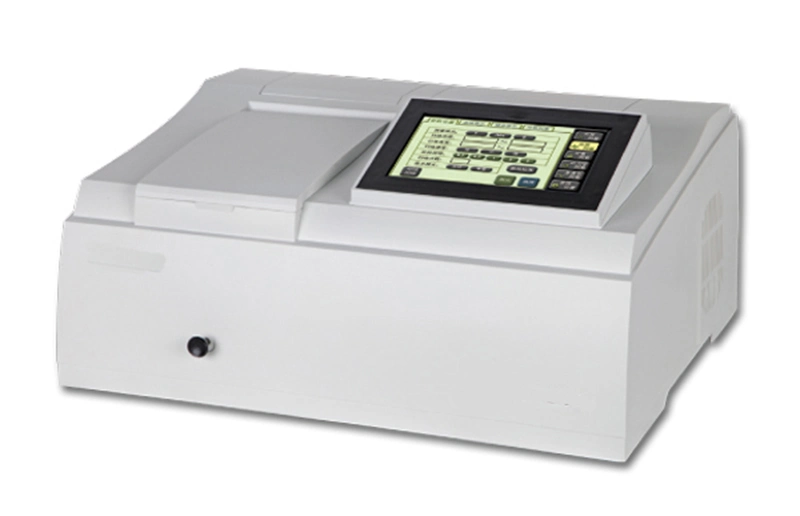 UV-Vis spectrophotometer, combined with ARM processing core, automatic wavelength so that the instrument has a high-end instrument test speed and function. Which can meet the qualitative and quantitative analysis of the vast majority of UV-visible spectral ranges in conventional laboratories. Suitable for medical and health, clinical testing, biochemistry, petrochemical, environmental protection, quality control and tertiary institutions and other departments.
main feature:
7-inch color touch screen and patented technology to achieve a simple and effective human-computer interaction at the same time, clearly show the test data and scan results.
USB communication port and optional UVwin8 UV spectrum software, to achieve data and map processing functions, as well as massive data storage, and for the customer's secondary development to facilitate.
Full-band scanning (limited to S), sub-band scanning (limited to S), dynamic time scanning, automatic wavelength, linear regression, concentration direct reading, peak and valley detection, timing printing and other functions.
advanced power protection measures, you can remember the test data, scan map (limited to S models), regression equations and instrument correction parameters, to achieve rapid initialization.
With halogen and deuterium lamp life protection.
MCF-640P Flame photometer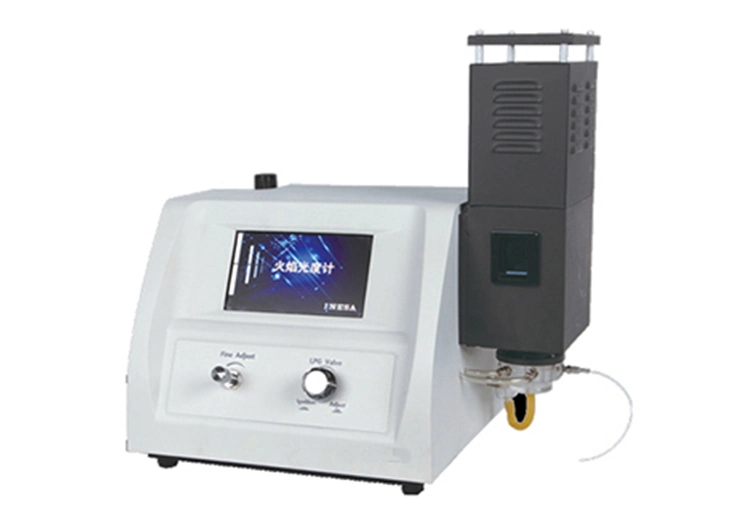 This Flame photometer series of crystal production is in accordance with the basic principles of emission spectrum design and manufacture of analytical instruments, widely used in agricultural fertilizers, soil analysis, cement, ceramics and other industries and silicic acid industry analysis and determination.
Product Features:
dual channel, K, Na can be detected simultaneously.
7-inch color touch screen.
With flame size preselection function and automatic flameout protection device.
easy to operate, fast analysis, less sample volume.
use liquefied gas to do gas.
FP6410 FP640 Optional operating software.
complete set: a host, a compressor air compressor, a set of accessories
normal working conditions: ambient temperature: 10 ºC -35 ºC; relative humidity
MCG-127 visible/ultraviolet spectrophotometer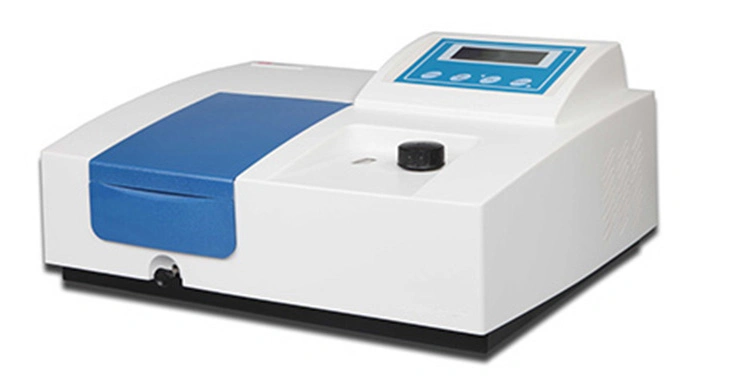 The product uses microprocessor control technology, in the visible spectrum of the material for qualitative and quantitative analysis, is a routine laboratory necessary multi-purpose analytical instruments.

main feature:
holographic sparkle grating monochromator, with high wavelength accuracy, monochromatic, stray light low and so on.
large screen with a backlit LCD display, the measurement data at a glance.
With the computer measurement system, T-A conversion precision is high, and automatic adjustment 0% (T) and adjust 100% (T), the concentration factor set, the concentration of direct reading.
High accuracy of measurement readings, good reproducibility and good stability.