DW-MW138 Hospital Ultra Low Temperature Biological Blood Bank Refrigerator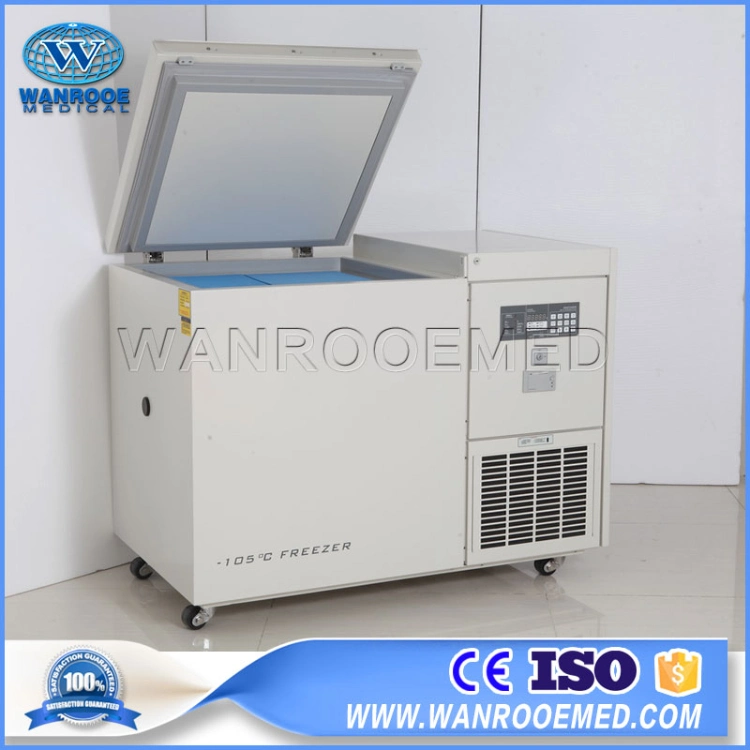 -152ºC/-135ºC/-105ºC Cryo Freezer offers a wide variety of research and storage applications, such as low temperature scientific experiments, preservation of red blood cell, white blood cell, skin, DNA/RNA, bone, bacteria, semen, biomedical product, ocean product, electronic devices, and low-temperature testing of special materials. It is suitable for blood banks, hospitals, sanitation and antiepidemic stations, electronic industries, university laboratories, military industries, pelagic fishery companies.
Control system:
1. Microprocessor-based temperature controller, -110ºC~-152ºC/ -90ºC~-135ºC/ -40ºC~-105ºC adjustable, Digital temperature display.
2. Audible and visual alarm: High or low temperature alarm, Power failure alarm, Low battery alarm, Door open alarm, Filter blocking alarm, system failure alarm.
3. Keyboard lock and password protected configuration page, Delayed start and safe stop interval between restart and being terminated.
4. With temperature recorder, 72 hour back up battery for recorder and controller work.
Structure design:
1. Stainless steel interior, outer is painted steel panel, 4 units Casters for easy handing.
2. Rotatable assistant door handle, Top door with key lock.
3. Two-times foaming technology, 155mm extra thickness foaming insulation.
4. Optional: Chart recorder, CO2 back up system, storage racks/boxes, Remote alarm system.
Refrigeration system:
1. Imported famous brand compressor, Quick freezing functions, with lower noise.
2. Unique refrigeration circulation and unique compressor oil-lubricated technology.
3. Use China Patent technology of mixture refrigerant. For specially Single stage refrigeration.
4. VIP board install, for good heat preservation.
| | | | | | | |
| --- | --- | --- | --- | --- | --- | --- |
| Model | Capacity(L) | Input power | Temperature | External size(w*d*h)mm | Inside size(w*d*h)mm | N.t |
| DW-UW128 | 128 | 4600W | -110~152ºC | 1510*985*1120 | 510*460*540 | 305KG |
| DW-UW258 | 258 | 9200W | -110~152ºC | 2085*890*1009 | 1140*410*552 | 420KG |
| DW-LW128 | 128 | 4600 | -90~135ºC | 1510*985*1120 | 510*460*540 | 305KG |
| DW-LW258 | 258 | 9200W | -90~135ºC | 2250*940*1120 | 1140*410*552 | 420KG |
| DW-MW138 | 138 | 1200W | -10~105ºC | 1320*890*1020 | 490*470*582 | 215KG |
| DW-MW328 | 328 | 1800W | -10~105ºC | 2085*890*1009 | 1200*470*582 | 300KG |
Company Information: