GC102AF Gas Chromatograph
As a new generation instrument, GC102AF Gas Chromatograph applies the computer reverse
control technology and canconduct remote detection and fault diagnosis, equipped with a flame
ionization detector (FID).


GC102AF gas chromatograph is suitable for trace detection of environmental protection, air and water pollution, analyzing poisons, monitoring and research, biochemistry, clinical application, pathology and virus research, food, petrochemicals, petroleum processing, oil analysis, geological , prospecting research, organic chemistry, synthesis, and quarantine, especially fit for power system, industrial and mining frontline laboratories and schools.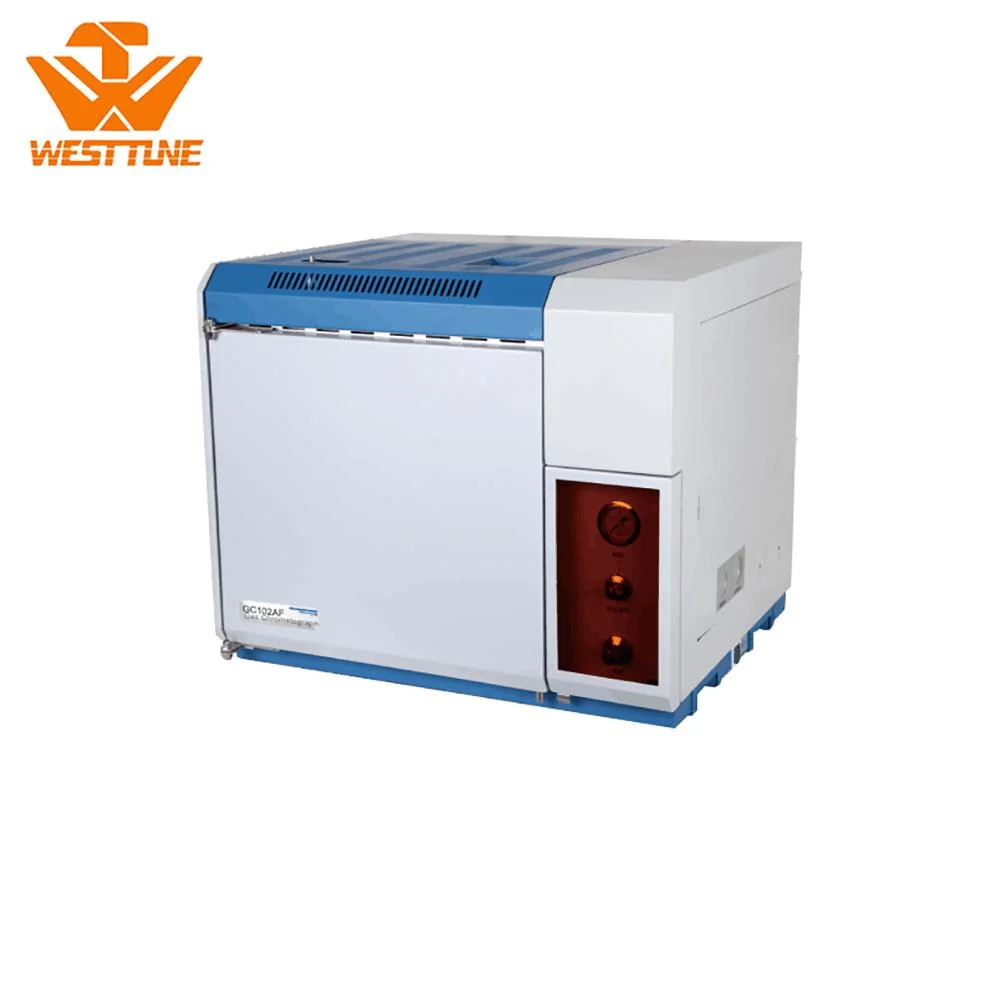 Features
The instrument is PC controlled, with high precision.

The instrument removes the original main device interface and is controlled directly by the computer. The interface is more intuitive and easy to operate. The device is designed with functions, such as s

elf-diagnosis, power protection, over-temperature oven protection, and automatic ignition. It can accurately display the temperature control settings, actual value, and FID amplifier sensitivity.

The single gas system and precise scale pneumatic control valve contribute to excellent reproducibility and stability.

The instrument can perform analysis of packed column or capillary. Packed column: on-column injection, instantaneous vaporization injection, and gas injection.

The open computer system can work together to process data.

The large capacity oven (300mm×280mm×270mm) facilitates the installation of packed column and capillary, with built-in heating wire structure.
Specifications
| | |
| --- | --- |
| Dimensions | 575mm×480mm×490mm |
| Weight | 50Kg |
| Power supply voltage | AC220V±22V, 50Hz±0.5Hz |
| Power | ≤1500W |
Oven Temperature Control Indicators

Temperature range

15

ºC

~399

ºC above room temperature (increment:

1

ºC)

Temperature accuracy

better than

±0.1

ºC(measured at

200

ºC)
Sampler, Flame Ionization Detector (FID) Indicators

Temperature range

15

ºC

~399

ºC above room temperature (increment:

1

ºC)

Temperature accuracy

better than

±0.1

ºC(measured at

200

ºC)
Flame Ionization Detector (FID)

Detection limit

Dt≤1×10

-10

g

/

s

(

N-octane / n-hexadecane

)

Linear range

≥10

6

Baseline drift

≤2×10

-12

A/h

Max. limit temp

400ºC
Optional Accessories
The basic model of GC102AF gas chromatograph includes the main device, packed column injector, a full packed column, carrier gas and auxiliary gas line, computer temperature controller, a flame ionization detector and micro-current amplifier, cylinder valves, external gas connections pipelines and other basic components of gas chromatograph.
Basic instrument of Model GC102AF gas chromatograph: 1 pc;

Accessories and spare parts (refer to the list of the accessories and spare parts):1 box.
The following accessories of Model GC102AF gas chromatograph are optional, and can be ordered with the basic instrument (if needed). They can also be ordered at any time after the instrument has been operated.
Large diameter capillary direct injector and makeup fittings

Reformer (including nickel methanation conversion agent)

Six-way plane switching valve (gas injector)

Chromatographic work station

Chromatographic simulation and dedicated teaching demonstration software

Deoxidization tube

Glass chromatography column (inner diameter: 2mm; outside diameter: 5.7mm, length: 1m. The distance between the centers of two columns' open ends is 174mm or 127.5mm. It is suitable for mounting this instrument).