Brief Introduction
By dint of leading impedance measurement technology and rich R&D experience, Tonghui continuously introduces representative impedance measurement product --- TH2829 series automatic component analyzer is another excellent product we have produced. TH2829A automatic component analyzer possesses a higher test speed, a more comprehensive analysis function and friendly human-computer interactive experience by adopting the latest high-speed processor and a new software system. Well-designed measuring circuit and optimized algorithms further enhance the test stability of low-D capacitance and high-Q inductors. The instrument is provided with 10V AC test level, 10V/100mA bias current and standalone 10V/50mA DC current, making it convenient for applying in the test of all kinds of active/ passive devices. Main/ sub parameters display, enhanced display system design, 150-points list sweep and graphical analysis capabilities of multiple parameters meet the most application requirements of customers.
Thanks to the application of a new generation of processors, the instrument has a more powerful data processing capability. The test results can be easily stored in the U disk or uploaded to the upper PC or network through multiple interfaces, promoting test automation and test efficiency.
The test frequency of TH2829A is 20Hz-300kHz. The instrument has a test accuracy of 0.05% and highest test speed of 9ms/time. Being equipped with multiple interfaces of HANDLER, USB, LAN, RS232C, DCI, GPIB (option) as well as rich resources, the instrument will bring excellent cost performance experience for customers.
TH2829 series automatic component analyzer is completely appropriate for test requirements of all kinds of industrial and military standards.
Technical Parameter
Model
TH2829C
Frequency of test signal
20Hz-1MHz
Minimum resolution
1mHz, 5-digit frequency input
Accuracy
0.01%
Display
800×RGB×480 7-inch TFT LCD display
ACLevel
Voltage range of test signal
5mV-10Vrms
Minimumresolution of voltage
100μV, 3-digit input
Accuracy
ALC ON
10% x set voltage + 2mV
ALCOFF
6% x set voltage + 2mV
Current range of test signal
50μA-100mA
Minimumresolution of current
1μA, 3-digit input
Accuracy
ALC ON
10% x set current + 20μA
ALCOFF
6% x set voltage + 20μA
DCbias voltage source
Voltage/Current range
0V- ±10V / 0mA-±100mA
Resolution
0.5mV / 5μA
Voltage accuracy
1% x set voltage + 5mV
ISO ON
Be used for the bias test of inductance and transformer
AC Source impedance
ISO ON
100Ω
ISOOFF
30Ω,50Ω,100Ωselectable
DCR Source impedance
30Ω,50Ω,100Ωselectable
DCIndependent voltage source
Voltage/current range
0V- ±10V / 0mA-±50mA
Resolution
0.5mV / 5μA
Voltage accuracy
1% x set voltage + 5mV
Output resistance
100Ω
Test parameters of LCR
|Z|,Y|, C, L, X, B, R, G, D, Q, θ, DCR,Vdc-Idc
Parameter display of test page
Two sets of main/sub parameters, the second set can be set as ON/OFF;There can be 10 pages of list sweep and 15 points per page at most;Multiple parameters continuous sweep graphical analysis.
Basic accuracy
LCR test parameter
0.05%
Calibration
Warm-up time ≥ 30 seconds;Environment temperature: 23±5ºC; Signal voltage: 0.3Vrms-1VrmsZeroing: After OPEN or SHORT; Length of test cable: 0 m
Measurement time(≥10 kHz)
Fast: 9 ms / timeMedium: 67 ms / timeSlow:187 ms / time Plus the refresh time of display character
Display range ofLCR parameter
Z, R ,X,DCR
0.00001Ω - 99.9999MΩ
|Y|,G,B
0.00001μs - 99.9999s
C
0.00001pF - 9.99999F
L
0.00001μH - 99.9999kH
D
0.00001 - 9.99999
Q
0.00001 - 99999.9
θ(DEG)
-179.999º - 179.999º
θ(RAD)
-3.14159 - 3.14159
Δ%
-999.999% - 999.999%
Equivalent circuit
Serial, Parallel
Range mode
Auto, Hold
Trigger mode
Internal, Manual, External, Bus
Average times
1-256
Calibration function
Open, short calibration with full frequency or dot frequency, Load
Math operation
Direct reading, ΔABS, Δ%
Delay time setup
0-999, minimum resolution: 100us
Comparator
10-bin sorting, BIN1-BIN9, NG, AUX
Bin counter
PASS/FAIL on front panel, LED indication
List sweep
·201 -point list sweep function ·List sweep of frequency, AC voltage/ current, internal/external DC bias voltage/current and independent DC source voltage can be performed on each page. Each sweep point can be sorted separately.
Graphical analysis
·Graph scanning and analysis of frequency, AC level and DC bias can be performed.·Set the sweep start point, end point and each sweep point.·Display the maximum value, minimum value and read any of the chosen sweep point·Scanning graphs can be stored into internal or external USB memory.
Internal nonvolatilememory
100 sets of LCRZ setting files memory201 times test results10 sets of GIF image, CSV data files
External USB memory
·GIF image, CSV data files·LCRZ setting files memory ·Test data can be stored via USB memory directly.
Interface
1A bias current source
1A DC bias current source (optional) can be stalled
I/O interface
HANDLER on rear panel
SCI
USB,RS232C
PCI
GPIB(optional)
NI
LAN
Memory interface
USB HOST(front panel)
General Specifications
Operating temperature and humidity
0ºC-40ºC, ≤ 90%RH
Power supply
Voltage
99V-121V, 198V-242V AC
Frequency
47Hz-63Hz
Consumption
Max. 80 VA
Dimension(W×H×D)
400mm × 132mm × 385mm
Weight
Approx.13 kg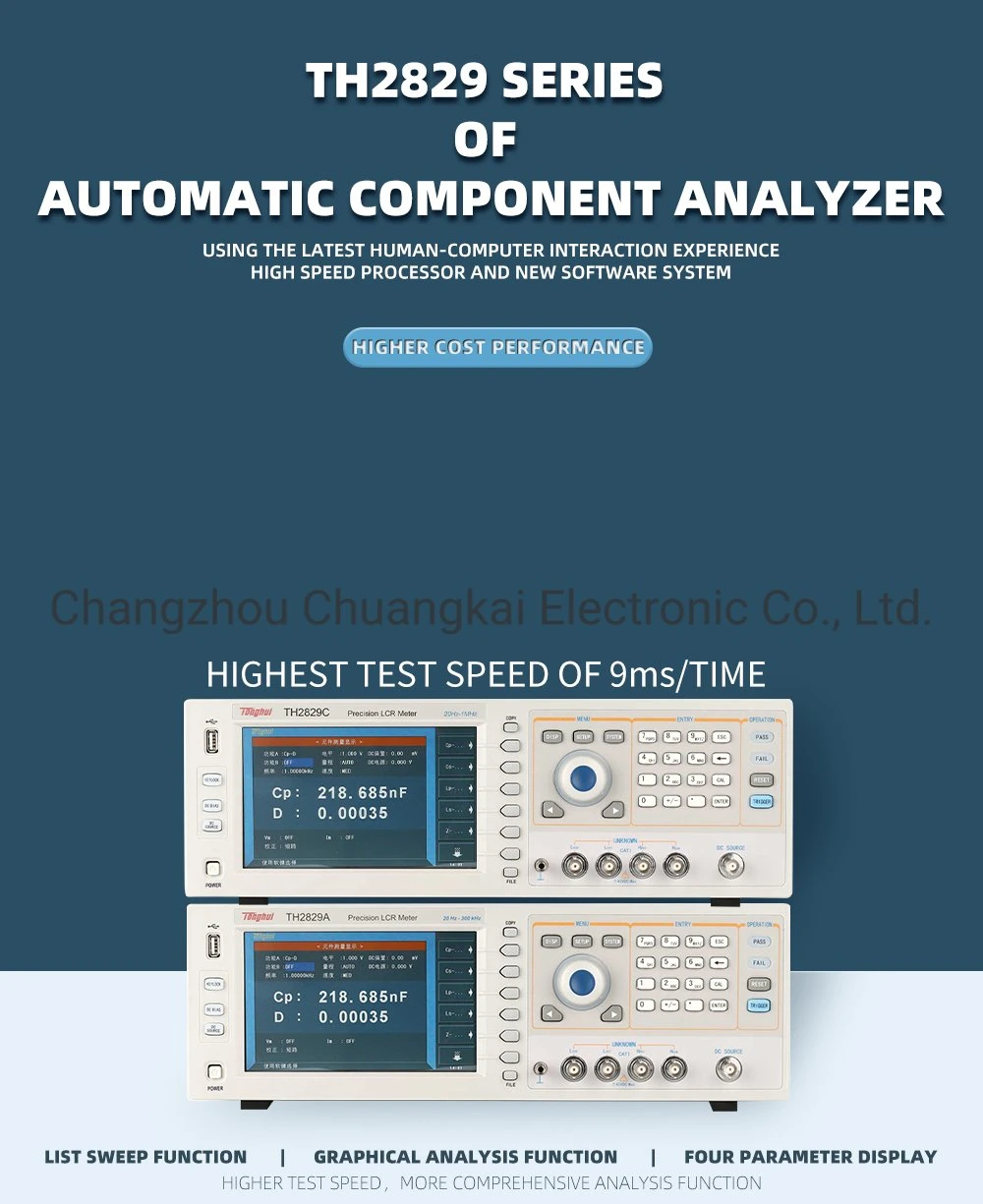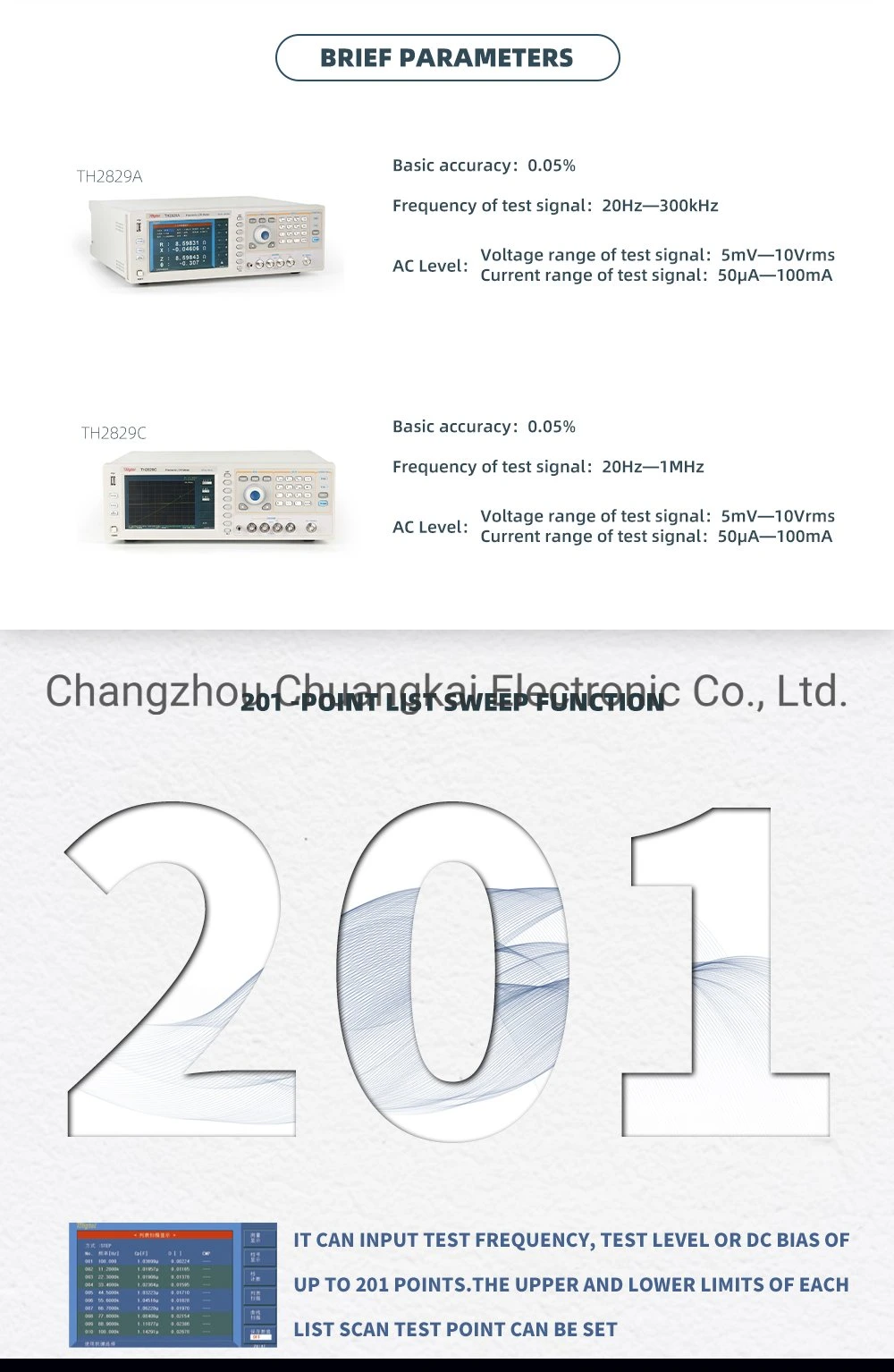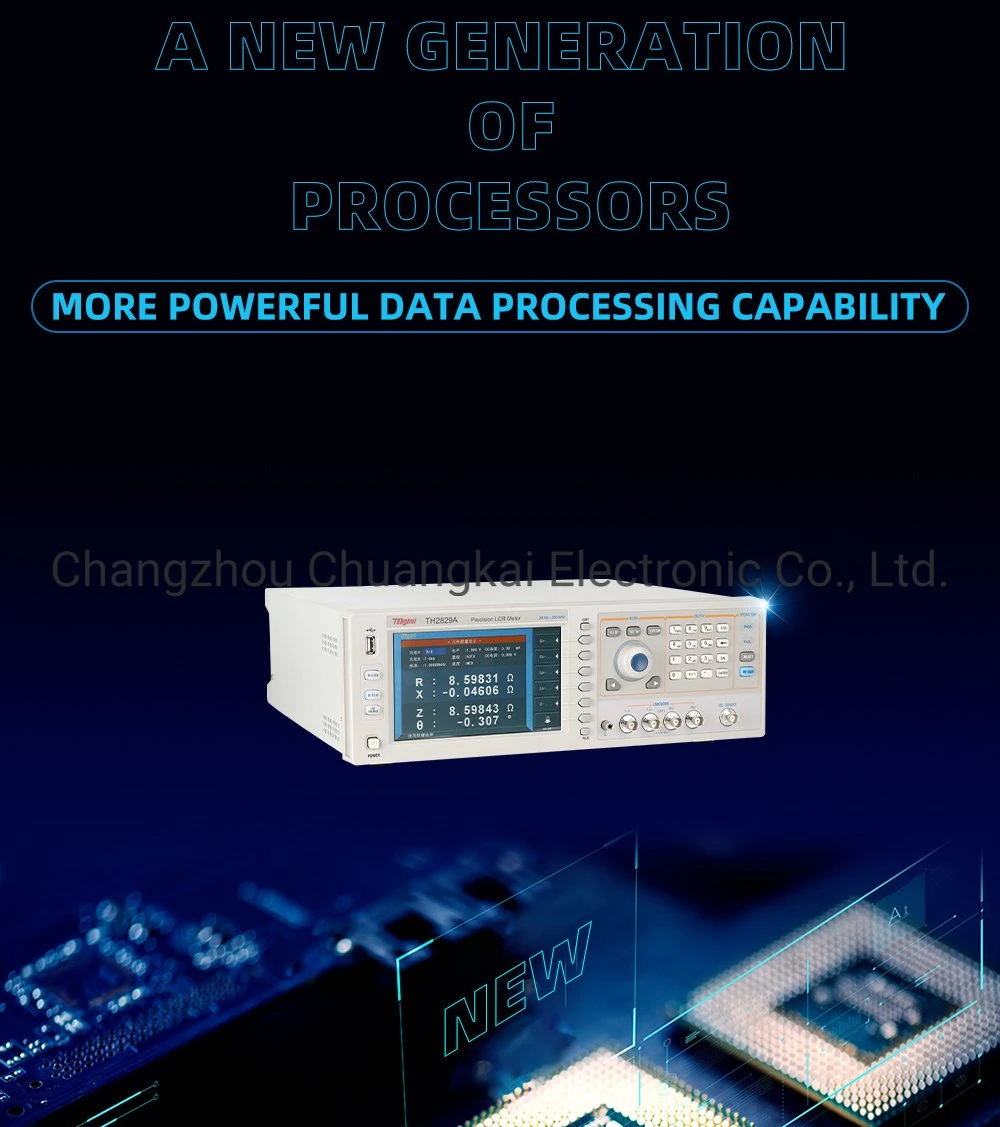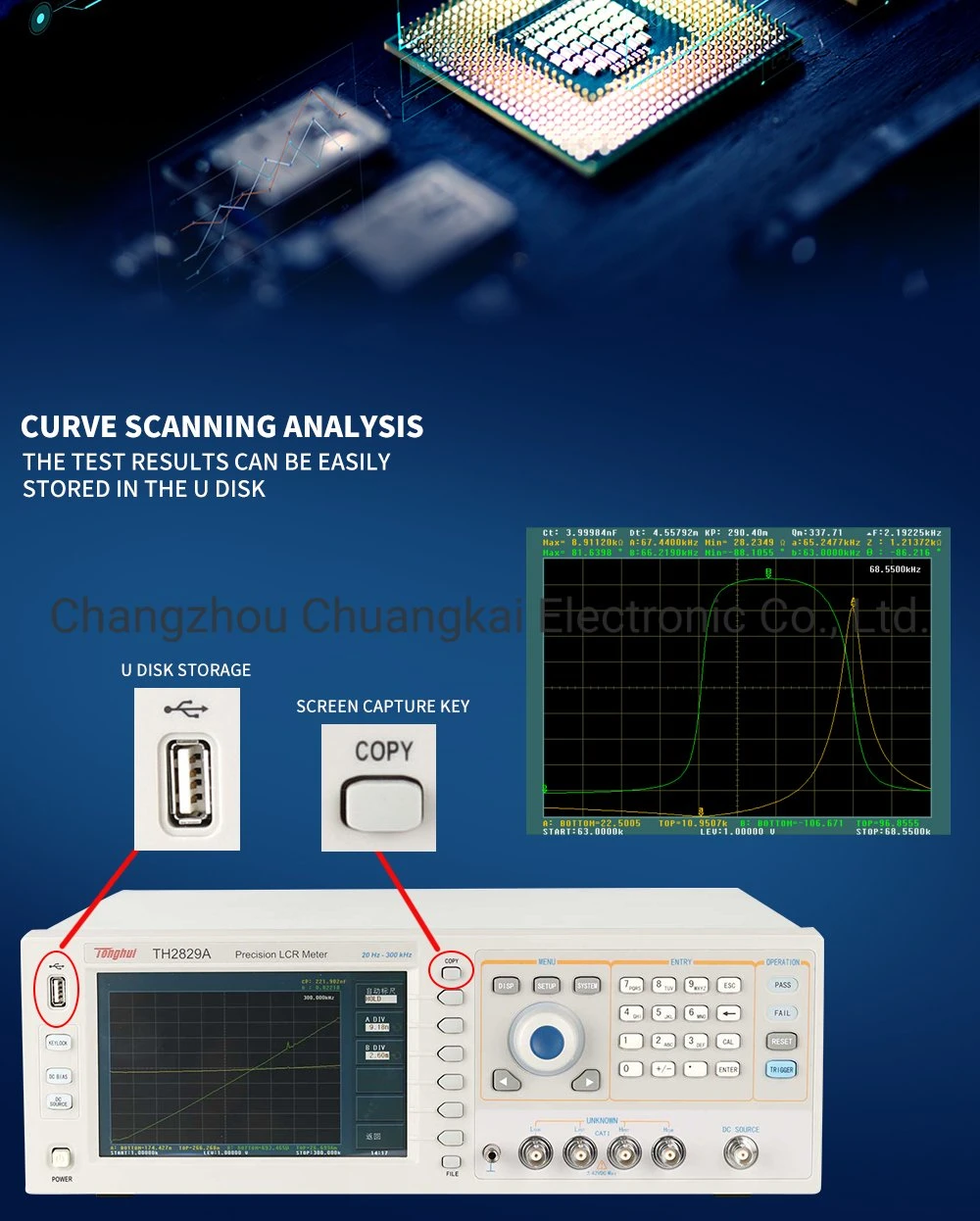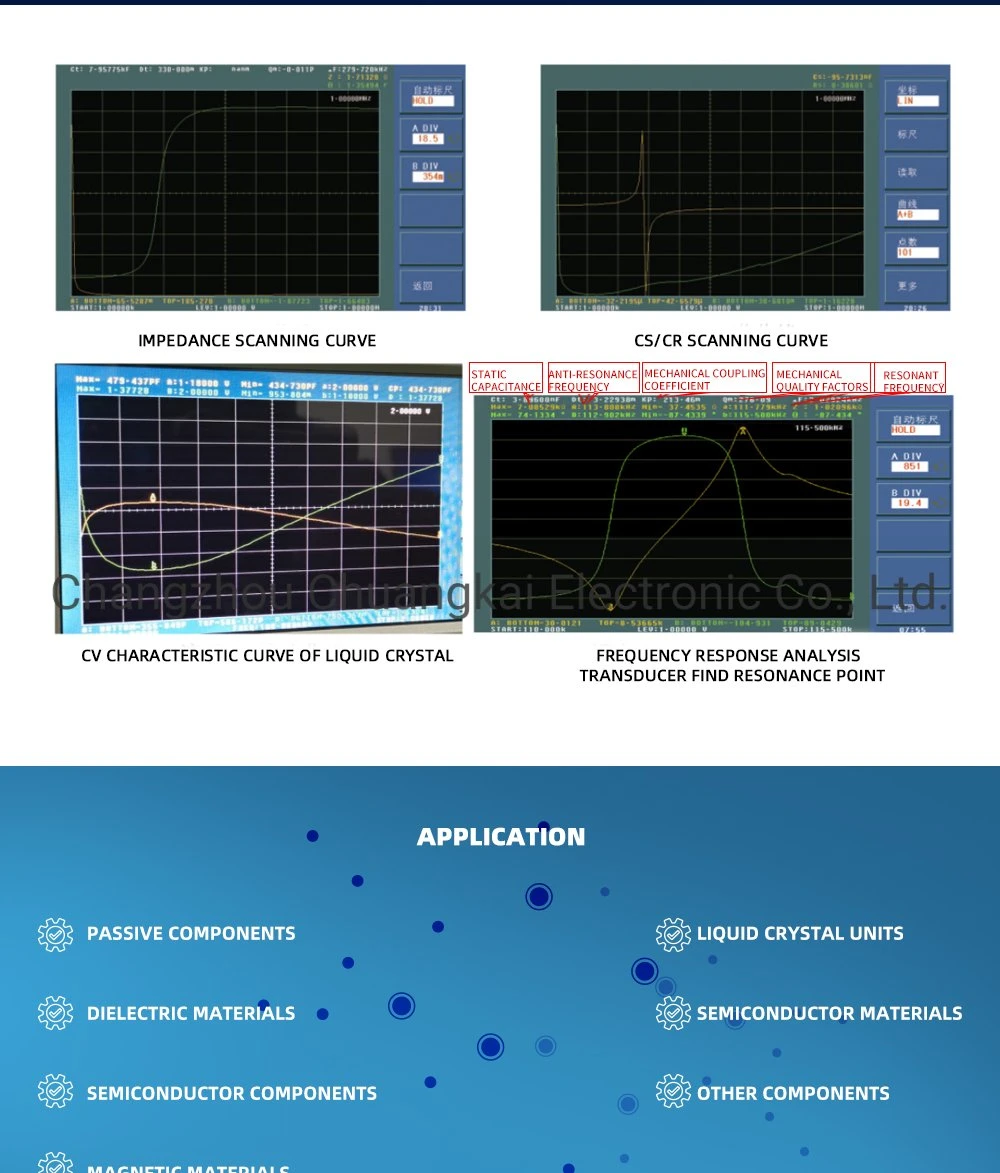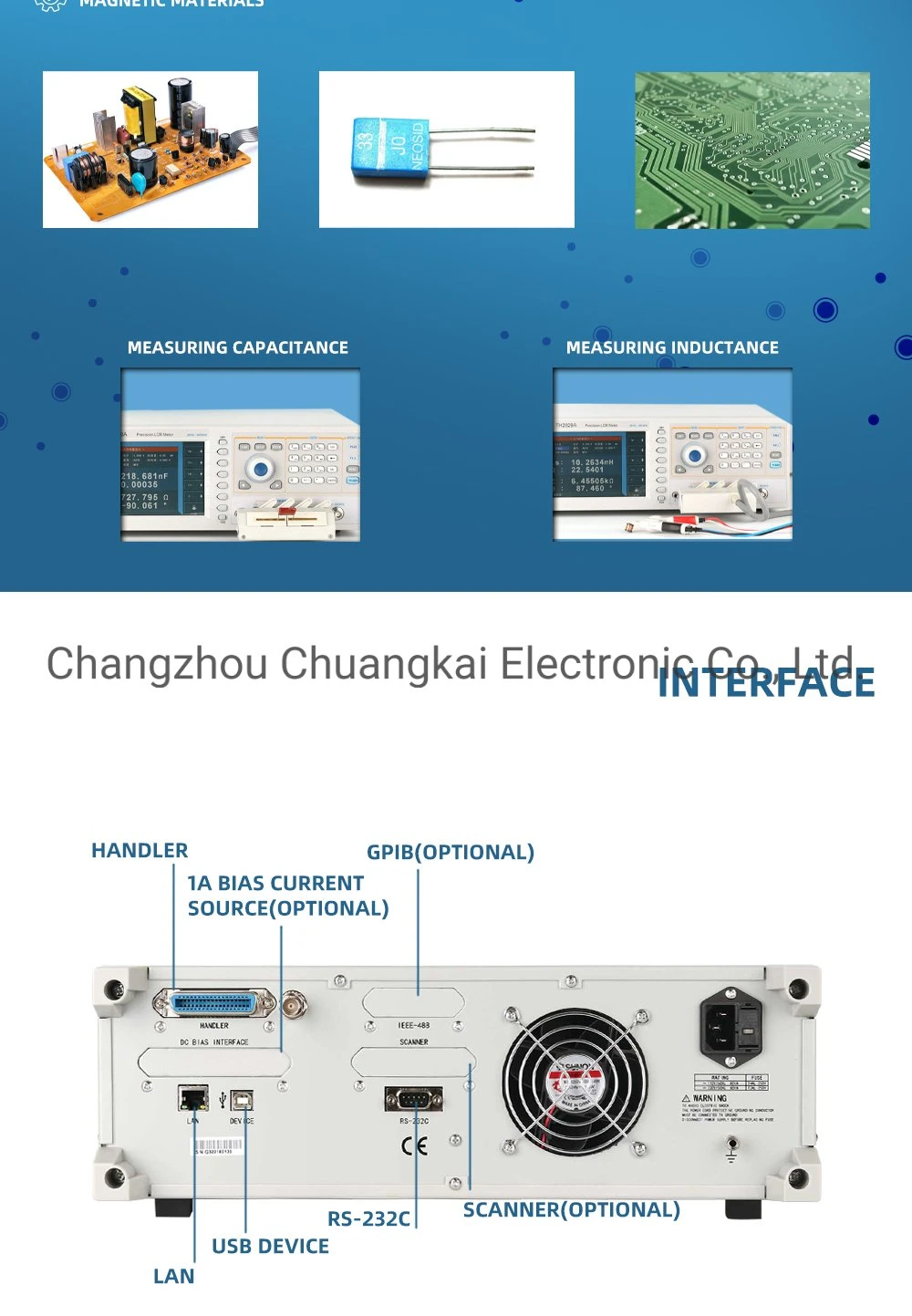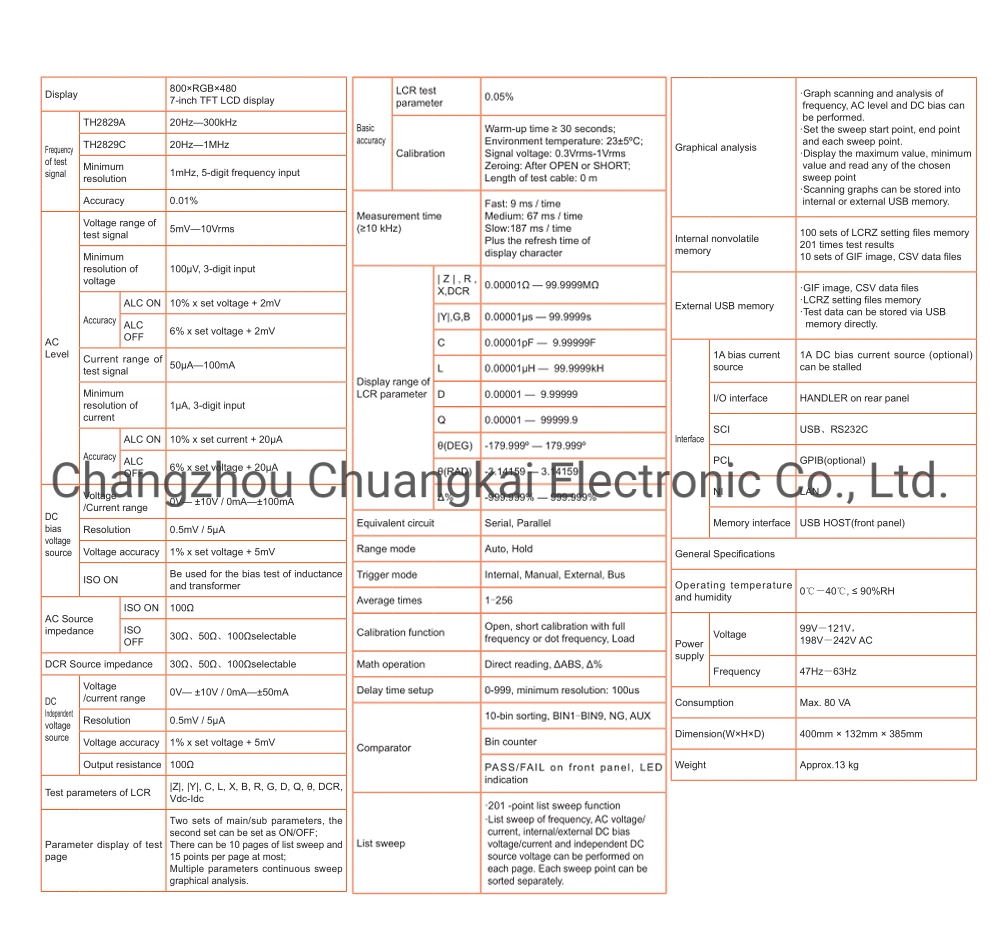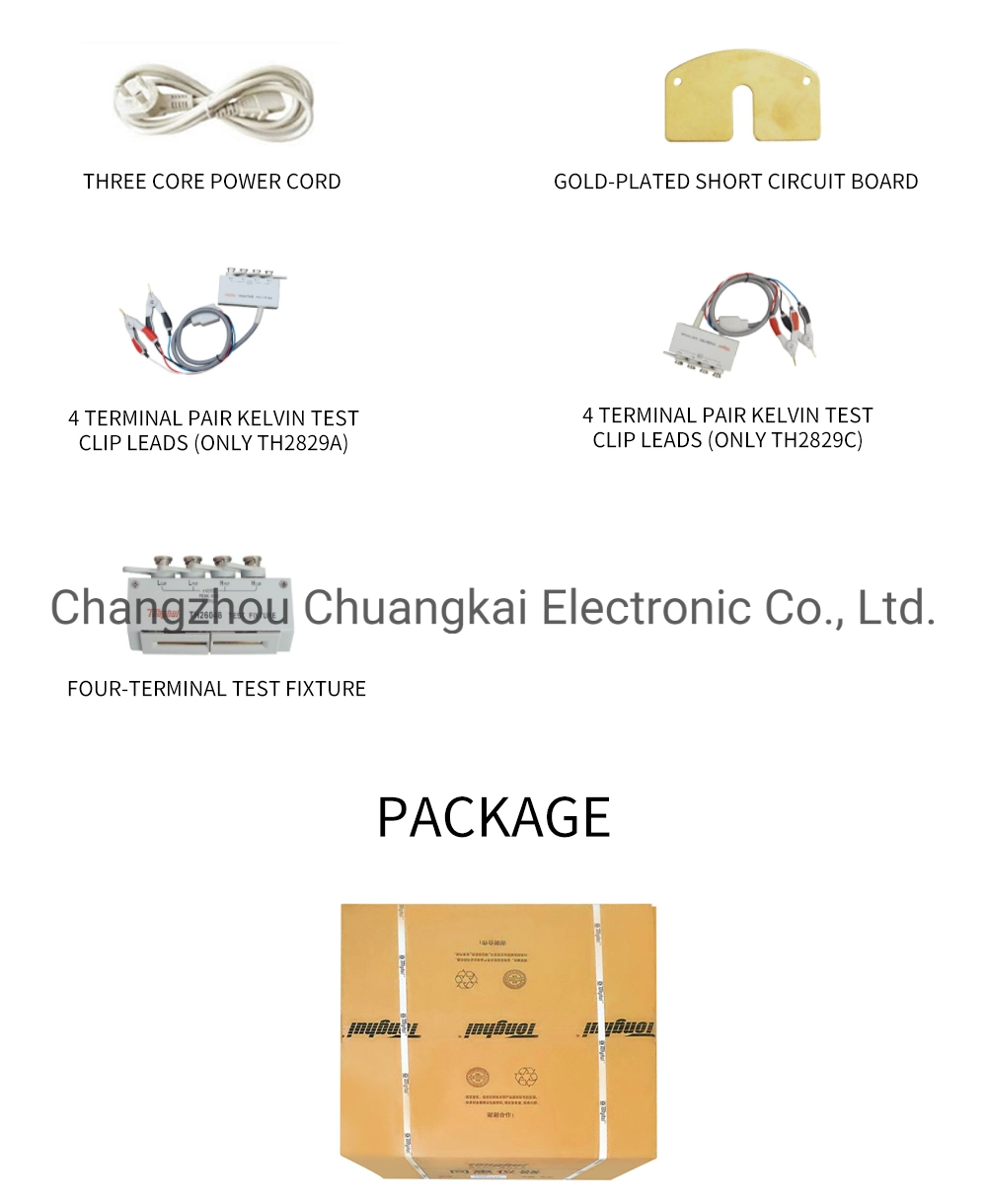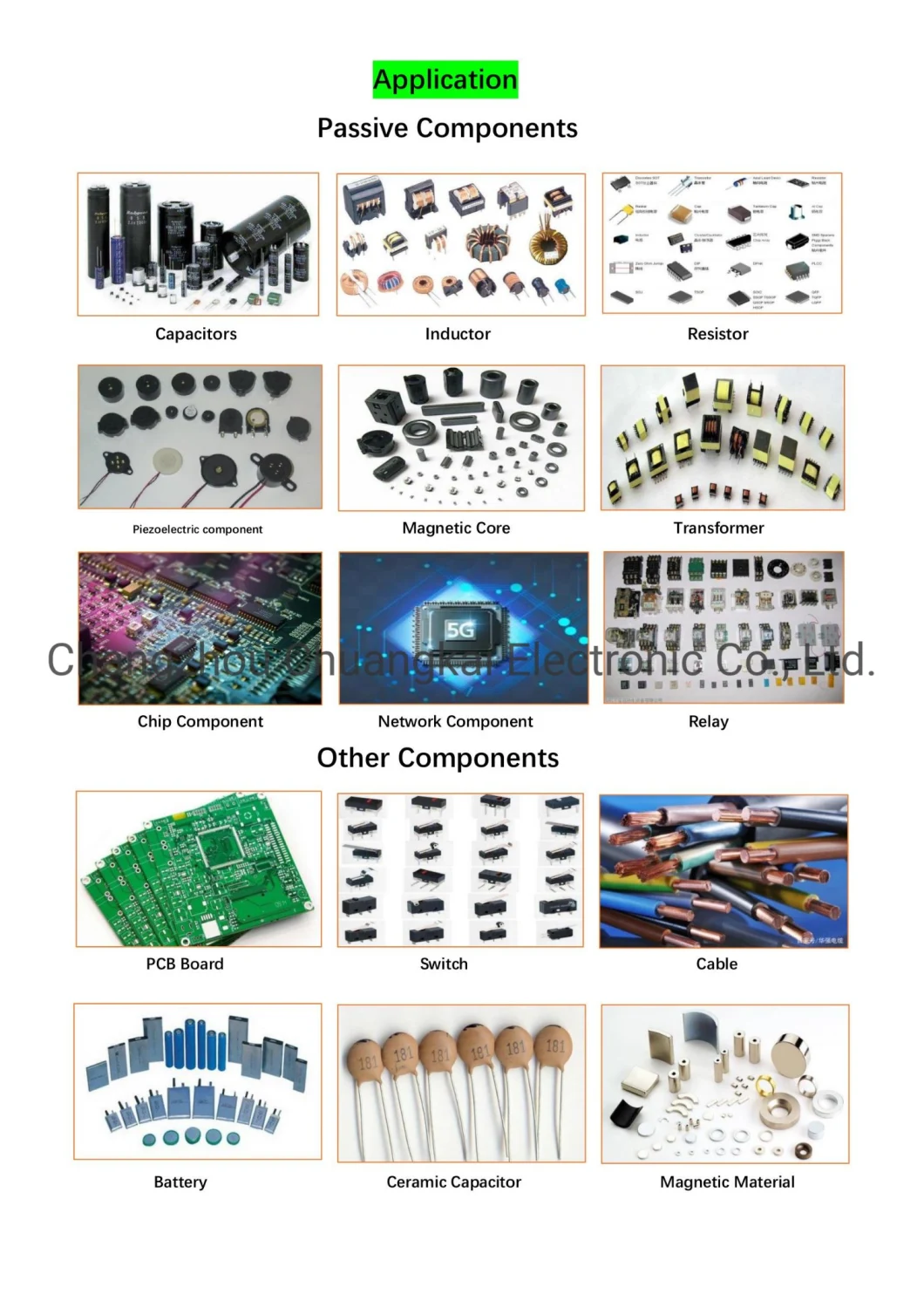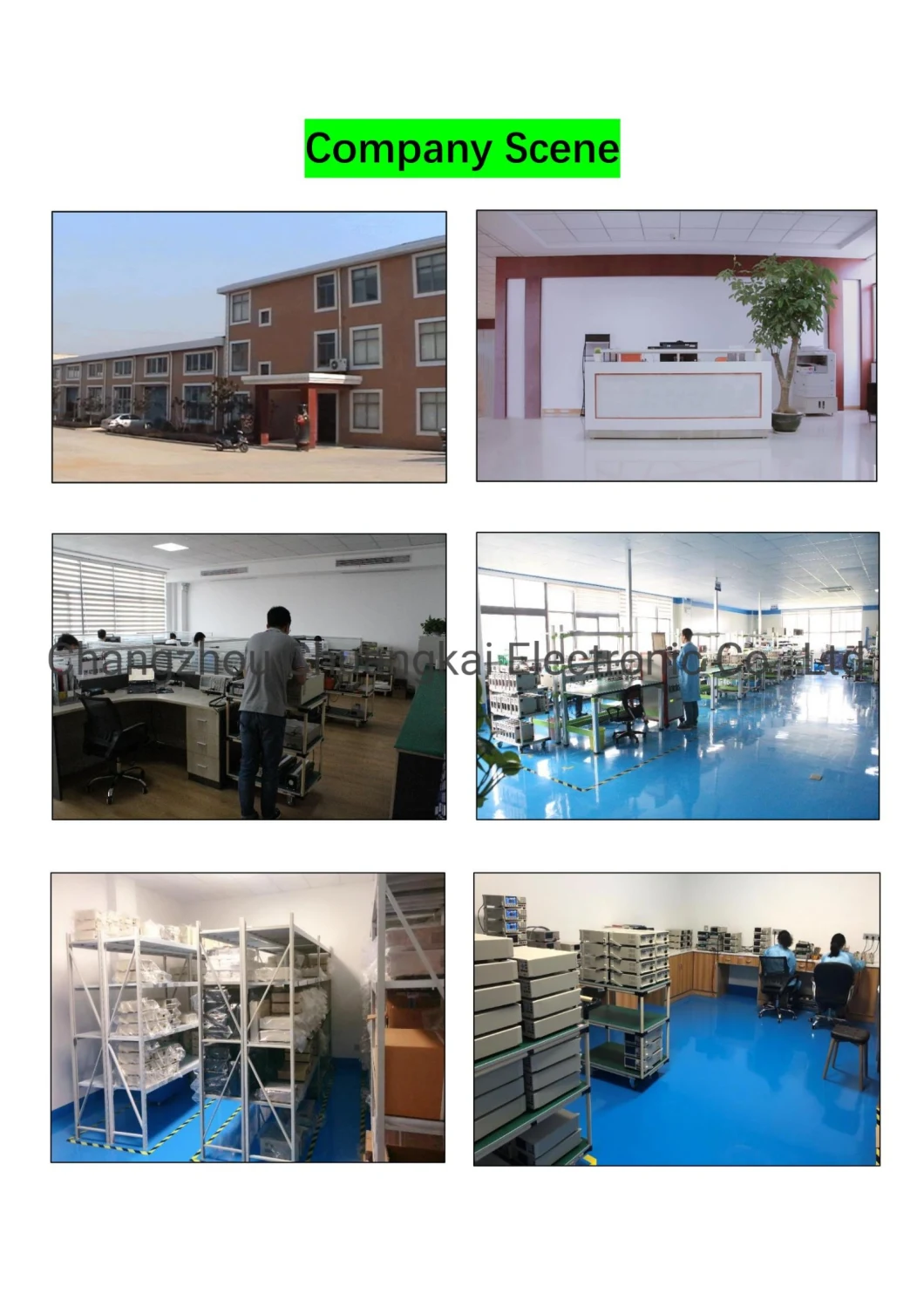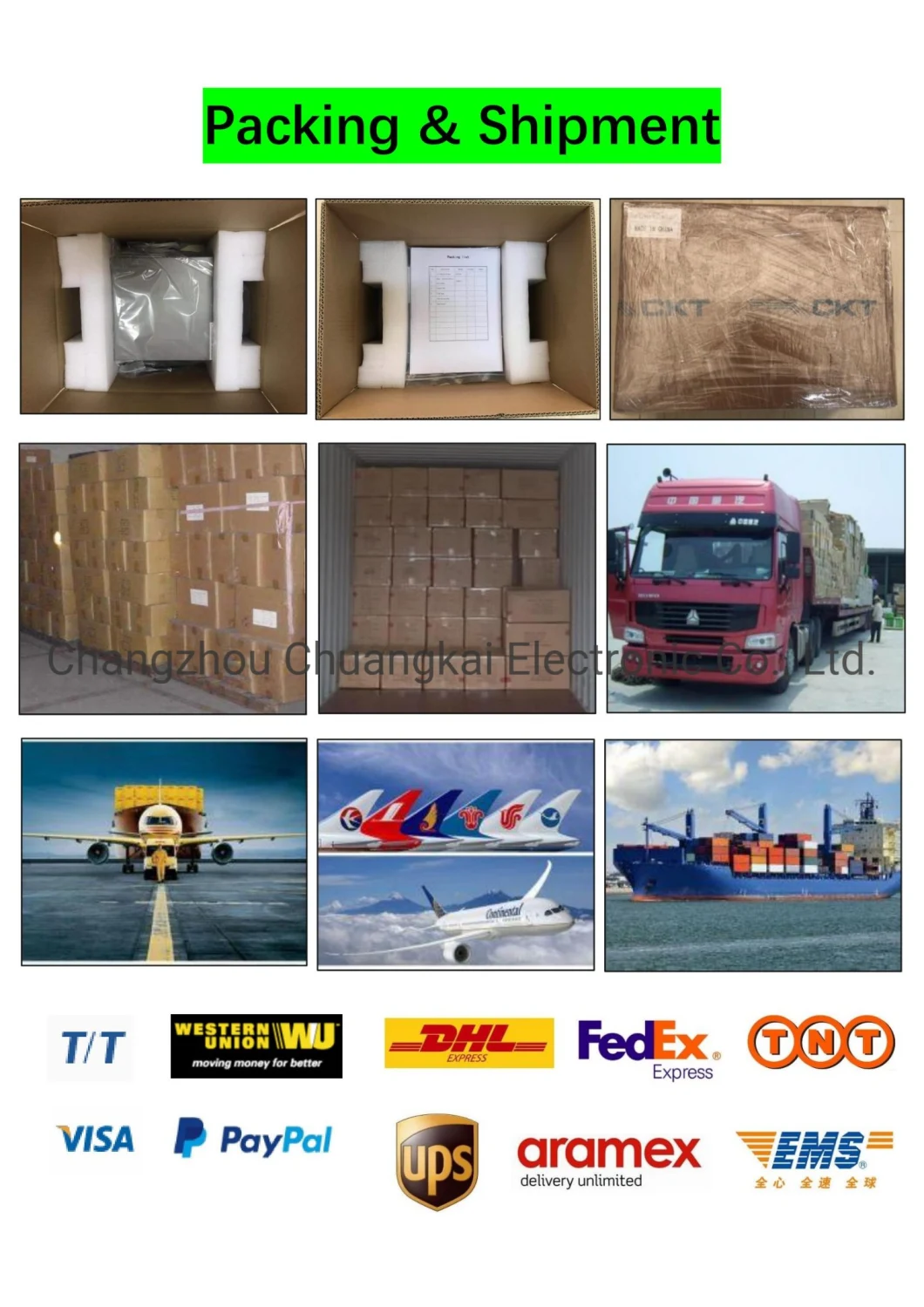 Chuangkai Electronic Co., Ltd is leading company specialized in producing, developing & selling various types of measuring instruments and testing equipment, such as temperature data logger, LCR meter, DC resistance tester (micro ohm meter), digital power meter, power supply, transformer tester, battery tester, programmable DC electronic load, charger, temperature controller, tachometer, high voltage signal-amplifier, power amplifier, etc.
FAQ:
Q. How is your company's product after-sales service system?
A. The product warranty period is 12 months, we can provide lifetime maintenance. We have professional pre-sales and after-sales teams that can respond to you within 24 hours to resolve technical issues. We provide one-to-one after-sales service.
Q: Can you customize it?
A: Yes, we accept customization according to customer's specific requirements.
Q. How long is your lead time? If I want to customize instruments, how long will it take?
A. When order quantity is 1-10 units, we have ready stock goods, we can ship out within 3-5 working days after receipt of deposit; products required new production of common materials, usually the lead time is about 10-15 days; products requiring new production of special and rare materials, usually the lead time is about 20-30 days.
Q. What payment method do you accept?
A. Our company accept payment method of T/T (bank transfer), Western Union, PayPal and so on.
Q. What package do you use for your products? What shipping method do you use?
A.1. Our company use standard exporting carton for packing. 2. We ship via express courier (door to door service), by air, and by sea according to customers' requirements.
For more questions, please feel free to send inquiries to us.