WR-XC-358L Medical Automatic Temperature Control Pharmacy Blood Bank Refrigerator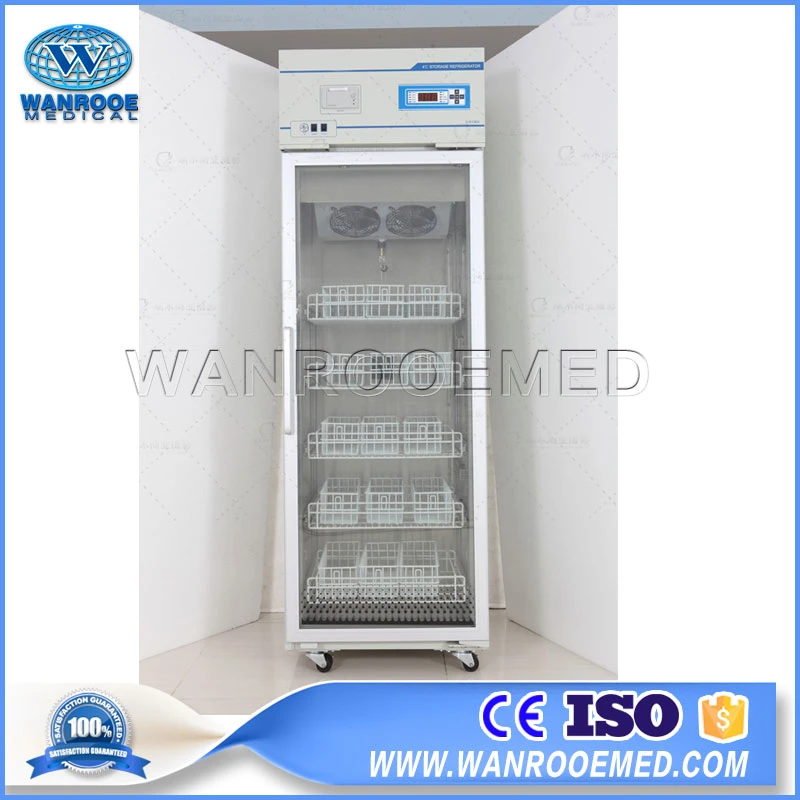 The Blood Bank Refrigerator is a specialized refrigerating equipment for blood (whole blood)storage application,which has been used in medical industries as well as cold storage of pharmaceuticals,biological products,vaccine,and so forth.it is suitable for hospitals,blood banks and sanitation and antiepidemic stations.
Control System:
1. Microprocessor-based temperature controller. Temperature range 4±1°C, with temperature printer standard.
2.Large screen LCD display of temperature, display accuracy of +/- 0.1°C.
3. Automatic temperature control, Defrost automatic
4. Audible and visual alarm: High or low temperature alarm, Door ajar alarm, system failure alarm, power failure alarm, low battery alarm.
5.Power supply: 220V /50Hz 1 phase, can be changed as 220V 60HZ or 110V 50/60HZ
Structure Design:
1. Upright type, Exterior made from painted steel plate,Inside is stainless steel. Four units Caster are mounted under the bottom
2.Three-layer glass door with heater around to prevent ice leak., and lockable.
3. Interior fluorescent light
4.Temperature printer is standard , Optional chart recorder, blood storage basket.
Refrigeration System:
1. Forced air circulation system
2. International Famous compressor and Germany EBM fan motors
3. The high-effective air-cooled condenser and the fin-type evaporator
4. Refrigerant as R134a, CFC free
5. Certificate: CE mark, ISO9001, ISO14001,ISO1348
Model

Capacity
(L)
External size
(D*W*H)
Interior size
(D*W*H)

Blood capacity

Weight
(KG)

XC-88L(CE)

88

500*450*1515

402*343*663

450ml/bag*40-50/bags

90/100

XC-268L(CE)

268

700*628*1662

512*518*973

450ml/bag*100-140/bags

160/170

XC-358L(CE)

358

700*628*1962

512*515*1270

450ml/bag*180-220/bags

200/210

XC-588L(CE)

588

800*760*1977

550*560*1260

450ml/bag*250-300/bags

230/240
Company Information: