YC-490 Hospital Medical Biological Laboratory Pharmacy 2-8 Degree Blood Bank Vaccine Cold Storage Refrigerator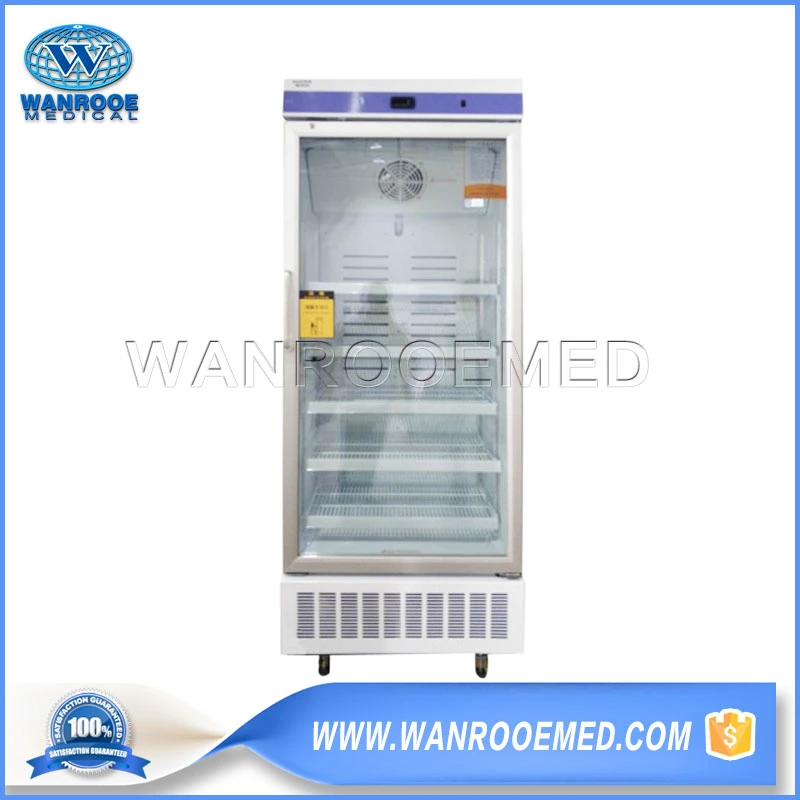 Temperature Control System
LED display, display accuracy attains 0.1 °C;
Forced air cooling system, the innertemperature can stay at the range of 2 to 8 °C.

Security Control System
Multi malfunction alarms: high temperature alarm, low temperature alarm, sensor malfunction alarm, open the door alarm;
Two alarming methods: buzzer alarming, light flashing alarming;
Protection function: power-on delay, time between stops.

Refrigeration System
Famous brand compressor and fan electromotor;
Optimized evaporation system and condensation system;
Inside forced air cooling system, stable inner temperature;
CFC-free refrigerant, environment protection.

Humanized Design
Safety door lock prevents arbitrary open;
Wide voltage design: it can work under 187V to 242V;
Off-line coating glass door can prevent door condensation;
LED lighting design, has a full display of contents inside freezer, energy conservation and environmental protection;
Low noise;
Equip with thermometer hole, it can inspectthe inner temperature;
Multi-layer shelves, can adjust clearance as needed;
Frost-free design, condensate water can evaporate automatically;
Universal caster with locking function design at the bottom, free to move and easy to fix.
Specification:
Model

Capacity(L)

Inner




Temperature (°C)

Voltage




(V/Hz)

Interior Dimension(mm) WxDxH

Exterior Dimension(mm) WxDxH

Package Dimension(mm) WxDxH

Shelf (pc)

Power




(W)

Net/Gross Weight(Kg)

YC-490

490

2-8

-220V/50

696x525x1412

800x735x1990

875 x 755 x 2110

5

275

118/145
Company Information: